The 8 Ball: Alison Carroll of Wonder Valley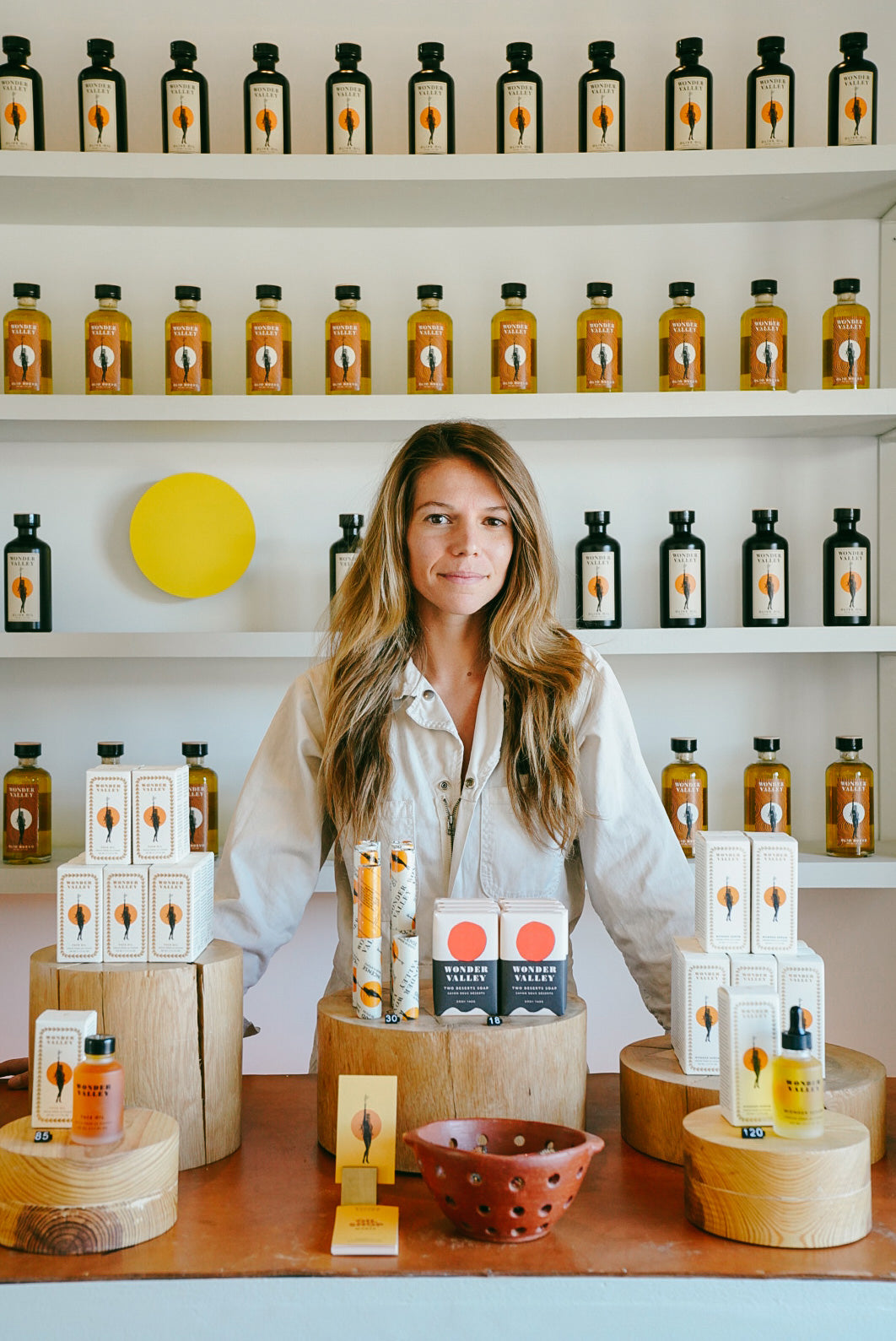 Extra virgin olive oil belongs in your skincare, not only your kitchen. Today we talk with one half of Wonder Valley, Alison Carroll. Alison and her husband Jay decided to start their line of deep orange and yellow golden hued oils after Alison's time spent at the California Olive Oil Council where she picked up several mentors in the field along the way. The hero ingredient throughout their gorgeous line is their own olive oil.
Alison splits her time between the high & dry Joshua Tree desert and humid sea salt filled Maine. Olive oil is her mainstay of a healthful diet & radiant skin between these two spots. No matter your climate, olive oil is here for you.
Can you tell us about your beginnings as the marketing director for the California Olive Oil Council and how that eventually transitioned to you and your husband starting Wonder Valley?
I had just moved to San Francisco to be with Jay over ten years ago. I had a background in marketing and public relations, working in boutique agencies in NY and Philly prior. But food was my passion, and I moved to Barcelona to stage in a wonderful kitchen for a few months prior to San Francisco. I really loved working with the small farmers and specialty food purveyors each day sourcing food for the restaurant. When I moved west, I wanted to find something rooted in agriculture that still put my experience and degree to use. I found the California Olive Oil Council, a non-profit in Berkley, and became their Marketing Director. My primary role was overseeing the annual certification program through a professional olive oil tasting panel. It was wild! Like olive oil sommeliers that can smell and taste the slightest defects in an oil that would disqualify it as extra virgin grade. I truly had the best mentors through my years there - from professional tasters, millers, farmers, scientists, equipment makers… every step of olive oil production. I also worked as an educator for retailers.
We eventually left the Bay Area and moved to LA, and I had to give up my post at the council. It was Jay's idea to start our own, working with mentors I had made during that time. We wanted to bring California olive oil to a whole new audience. We launched with our classic black bottle in 2014 which is still our best-seller.
Talk to us about you and Jay's roles in Wonder Valley.
He's the best partner and I feel like our strengths are very complimentary. His title is the creative director and he is the one behind the visuals of our Wonder Valley world - the primary photographer, product design, and all the branding work. I feel like I'm the conductor, overseeing all the different departments and calendars and making sure it flows. I'm deeply involved in the finances and operations of the company, which I actually really really enjoy. And I handle the formulations and product development, my favorite component is the scent direction. It's a small team and we all overlap and wear a lot of hats. I feel really lucky to work with such a great team and do what I love.
What makes a great olive oil? What should consumers steer away from?
Well, let me tell you what makes Wonder Valley Olive Oil exceptional! We use a unique blend of olive varietals which allows for it to vary from year to year - I love how this is not a static product but always changing and evolving. Some of these varietals are rather uncommon and it makes a really dynamic and flavorful blend. We pick our fruit rather underripe, the olives are still green with just a blush of purple rather than the industry-typical dark black. This gives us an oil that's greener in flavor but also a higher concentration of polyphenols (antioxidants) which makes it both a superfood in a diet and an incredible free radical-fighting incredible skincare ingredient. We provide transparency about when it was made: stamped with the harvest date on the top of each bottle's cork. Our olive oil is certified by the California Olive Oil Council as extra virgin grade. And it's bottled in a plastic-free packaging: glass, cork, wood, paper. Even that plastic-looking wrapper to secure the cork is actually a biodegradable wood pulp. This product has proudly been 100% plastic-free since launching in 2014.
What to look for: avoid plastic bottles, look for dark glass or metal (unless it's a seasonal product like our Olio Nuevo!). Read the fine print, a lot of imported oils will say something like Tuscan Olive Oil on the front and when you look on the back it'll say product of Tunisia, Italy, Spain and Greece (just an example). This tells you that there's no traceability of when this was made, no quality control. Look for a harvest date: expiration dates are arbitrary, unregulated, and can be obscenely generous long after the oil has oxidized. Look for a harvest date and use within 18 months of that date. The term 'extra virgin' really is unregulated so shop from reputable businesses that really know their products and can answer your questions.
Most importantly: this isn't wine! Don't save it and be precious with it, enjoy it and replenish each season.
With your passion for food, what is the best meal you've eaten recently?
Living in the desert for so many years has really made me a better, or at least, more confident and adventurous cook. We're geographically far from restaurants and it's a small town. So we cook a lotttttt at home. I love baking bread each week — I'm GF and use the recipe from Canelle et Vanille's book which is my GF bible. A friend visited us recently and we usually task visitor's with a shopping list, this time some sushi-grade fish. We don't have the most professional form, but we love making sushi at home. It's such a decadent treat in the high-desert.
Your skin glows! Do you contribute your skin & hair health all to the medicinal properties of olive oil or is there anything else that you've personally seen have a big impact?
Thank you! :)
Acne was something I struggled with for a long time. What's worked for me is to address gut issues: removing gluten and limiting dairy is the trick for me. I really prioritize my health with routine blood work and supplements with my holistic doctor. Which I think really balances out my whole system. I try my best to manage my stress; with walks, qi gong, yoga, breathing exercises. And I drink a lot of water, strive for a gallon each day. I think all these internal efforts really show up as healthy, balanced skin.
For skincare, I really believe in skinamalism. I stick with a routine of just a few steps, I am consistent with them, and I make sure everything I put on my skin is not disruptive to my microbiome. I want to support and work in tandem with my skin's natural functions of healing, detoxification, cell-turnover and not look to chemicals or aggressive products to replace these steps. Happy skin is beautiful skin to me!
We heard that you may be making your way from California to Maine soon! How do you spend your time between these two places? What do you love about each of them?
Oh, the duality of these two places is so special and they really are total opposites; in climate, our diet, our hobbies, our wardrobes. In Joshua Tree, I love the amount of uninterrupted open space we have. That does something to you mentally, really clears out your head to have an open sightline of landscapes and views and all that sky. The amount of space we have on our land is pretty incredible, it's so peaceful and quiet. There's room for me to cook outside, my husband for his stone carving practice, or for the bathhouse we build that really is amazing to use most of the year in this climate — and you can step outside of the bath or shower outside and almost be dry just in the air. It's a pretty amazing feeling. Being immersed in nature, you really get into the rhythm of the season's - not just the cycles of animals and plantlife but the cycles of the moon, the movement of the sun throughout the year.
Maine is the opposite, all that water, humidity, moisture. My skin and hair needs it. It's so soothing to have all the rain. Our view is of a working waterfront, with a handful of fishing boats on our cove hauling lobster traps. We have a boat moored alongside and it's such a sweet community we found moving here (and spoiled with access to incredible and fresh seafood). There's local preserves for forest hikes, moss, and rocky ledges. And that perfume of salt air hitting pine trees. We live closer to neighbors on a small island, and it's a real sweet scene.
I've been using your Hinoki Body Oil for a few years now and the scent is amazing. I love that beautiful fir and wood smell. What scents do you gravitate towards and love to incorporate into Wonder Valley?
I tend to be a bit more tomboy-ish with my personal aesthetic - I like the mix of wearing mens clothing, or unisex looks. And I love a naturalist approach to beauty and scent. I love earthy, woodsy notes with warm, resinous tones. Like hinoki, cedar wood, sandalwood, firs, galbanum, ambers. Or bright herbaceous notes like rosemary, sage, coriander. The mix is what makes it interesting, and it all depends on the application. It's a very intuitive process for me and so rewarding when you find that sweet spot, like the Hinoki Body Oil.
Your desert island Wonder Valley skincare pick and why?
Our Oil Cleanser, I can't live without it! There's not another oil cleanser like it — it has this thicker consistency like honey, you'll massage onto dry skin and it's like a magnet for build up, make up, sunscreen, excess oil, impurities… then add some water and massage and it turns from honey to milk. It washes totally clear with warm water, no need for a wash cloth (which to me is an opportunity for bacteria). It is that sweet spot of tough enough for a deep cleanse, but does not dehydrate or strip away any beneficial oils or disrupt fragile and lively microbiomes. I always feel great after an oil cleanse.