The 8 Ball: Laurie-Anne Braun & Margot Baudequin of Fane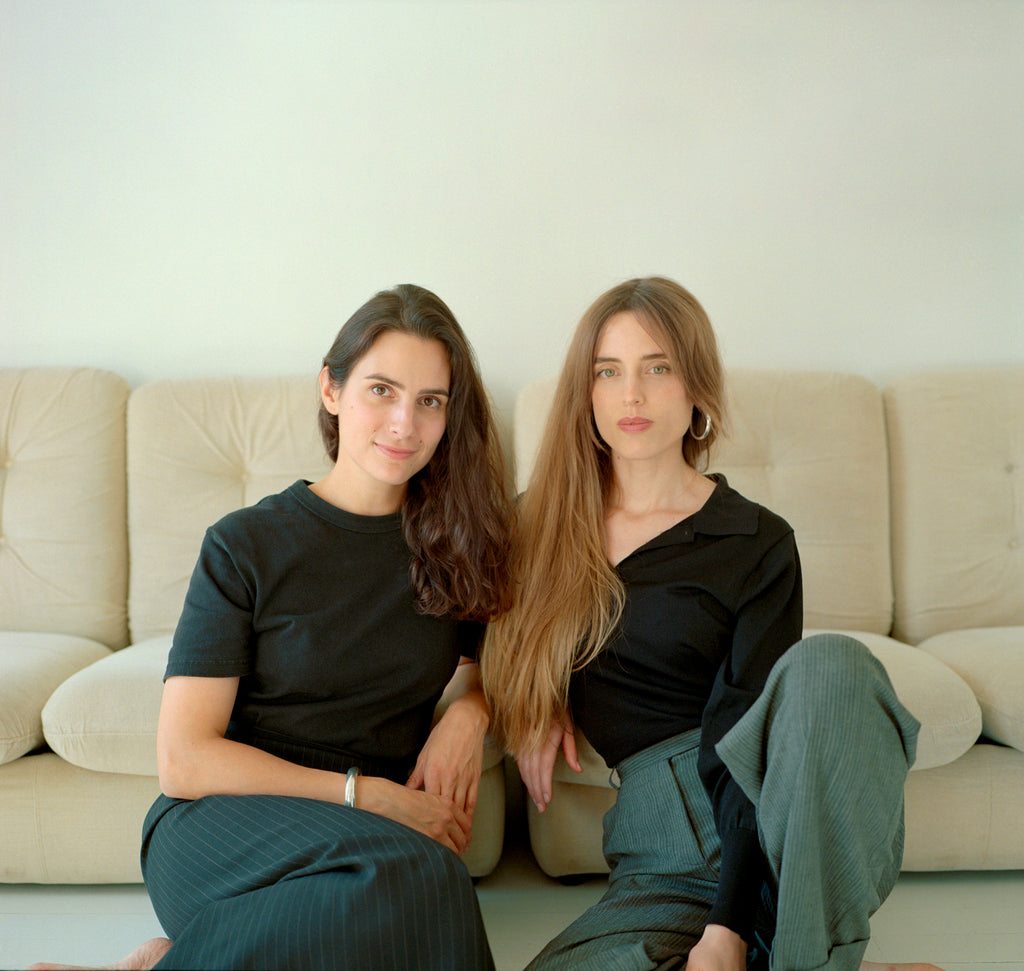 We're delighted to chat with the Founders of Fane, Laurie-Anne Braun and Margot Baudequin. Fane is, in their own words: timeless, minimal, and sustainable. The line was born out of frustration when both couldn't find a bag that they loved. Something was always in the way; a big logo, a visible zipper, a look too trendy, not practical to carry, etc. The two creators sought to create a line of their own with beautiful shapes and colors (maybe lack-there-of actually, with colors like Nuit and Page). We see each Fane bag moving from generation to generation. Made in a small but well equipped atelier in France, they're the kind of bags that will last forever.
Please introduce yourselves and tell us a little bit about your backgrounds.
Laurie-Anne: I'm from Nancy, a city in the North-East of France. After getting my law degree, I moved to Paris in 2011 to study marketing in a Business School. I met Margot in 2013 as we were both interns in a trend forecasting agency. The idea of Fane came out in 2017 and we officially launched the brand in 2020. I'm still working for other brands on the side, mainly for Maryam Nassir Zadeh Paris showroom and other ongoing projects.
Margot: I grew up in the South of France near Aix-en-Provence and Marseille. I moved to Paris in 2010 to finish my studies. Since 2014 I've been working as a creative strategist for beauty and fashion brands in parallel to Fane. Before Fane, neither Laurie-Anne and I had experience in product development, production, leather sourcing… so we are both self-taught in this field.
Can you tell us why you launched Fane?
LA: I guess Fane was born out of frustration (laughs). I imagine most designers create the products they're looking for but can't find on the market. I'm obsessed with bags since I'm a teenager and prior to creating Fane, I was mainly wearing vintage ones as I couldn't find any brand that I liked. There was always a detail that was ruining the design: a big logo, a color that was not so easy to combine, a very visible zipper... So when we designed the bags, our mission was to create timeless shapes that could go with any outfit. We like the idea of a bag that complements a silhouette rather than one that you notice right away because it steals the show.
M: Before creating Fane with Laurie-Anne I was the kind of person that had no bags: I was carrying my phone, wallet and keys in my jacket pockets. Sometimes I even had to sew inside pockets to the lining of my coats. I thought that most bags were not convenient to carry, too big, and not very practical. And most often the designs were too trendy for me. So when we were working on our first collection, one of our main focuses was to create bags that would be simple, lightweight and ergonomic. The kind of design you appreciate more and more as time passes.
Three words to describe Fane to a stranger?
Timeless
Minimal
Sustainable
Tell us about where the bags are made in France.
Our bags are handmade in the Drôme region (South of France). It is a small but yet very well equipped atelier. The team does wonders and the communication is easy and fluid. It is very important for us to keep things as local as possible in the making process as well as for the materials used (all French and Italian). As the brand is expanding, we're currently looking for an additional factory in France that will be able to produce some parts of our collections.
How do you stay away from 'trendy' when designing?
LA: Our personal styles are not driven by novelty or trends, so I guess it prevents us from being too "trendy" with our designs. Our bags' specificity is that they don't have any visible metallic parts and no exterior logo: I think those details contribute to creating timeless designs.
M: Actually simplicity is the hardest thing to achieve because it requires every detail, proportions to be perfect. When working on a new design we always ask ourselves "could this design have existed 20 years ago? Would it still be modern in 20 years?".
The bag you find yourselves turning to the most often?
LA: It is always hard to choose because we love them all ! These days I mainly wear our new Mie Bag in Nuit double tanned calf leather. I'm particularly in love with the very dark/pigmented navy leather that is not too classic and the softness of its touch.
M: Tough question ! I'm still very fond of our Bra Bag in Page spazzolato that is one of our permanent colors. This color works so well with both summer and winter outfits and I think the glazed leather underlines very well the curves of this particular shape.
We love your brand imagery both on your site and Instagram (where we discovered you)! What do you look for when you're deciding who to photograph with? What do you hope comes through in the photographs?
We wanted to create a strong brand image, yet calm and timeless, which is a subtle balance to find. We often say that to create beautiful imagery, there needs to be a (platonic) love story between us and the photographer. So we're working with people who fully understand our vision and can bring it further. For our main campaigns, we've worked with the duo Chaumont-Zaerpour and with Ana Kraš. Besides, we're regularly doing small project collaborations with artists we like such as Isabella Killoran, Angèle Châtenet and more recently Ana Roque. We feel very lucky to be surrounded by so many inspiring and talented women and being able to collaborate with them.
Maybe more of a fun question- can you put an outfit together for us with Fane of course?
Lauren Manoogian Rib Mockneck in Chalk
Lauren Manoogian Layer Skirt in Air
Martiniano Glove in White
Santangelo Yellow & Green Heishi Pronto Anklet
Fane Bra Bag in Choc