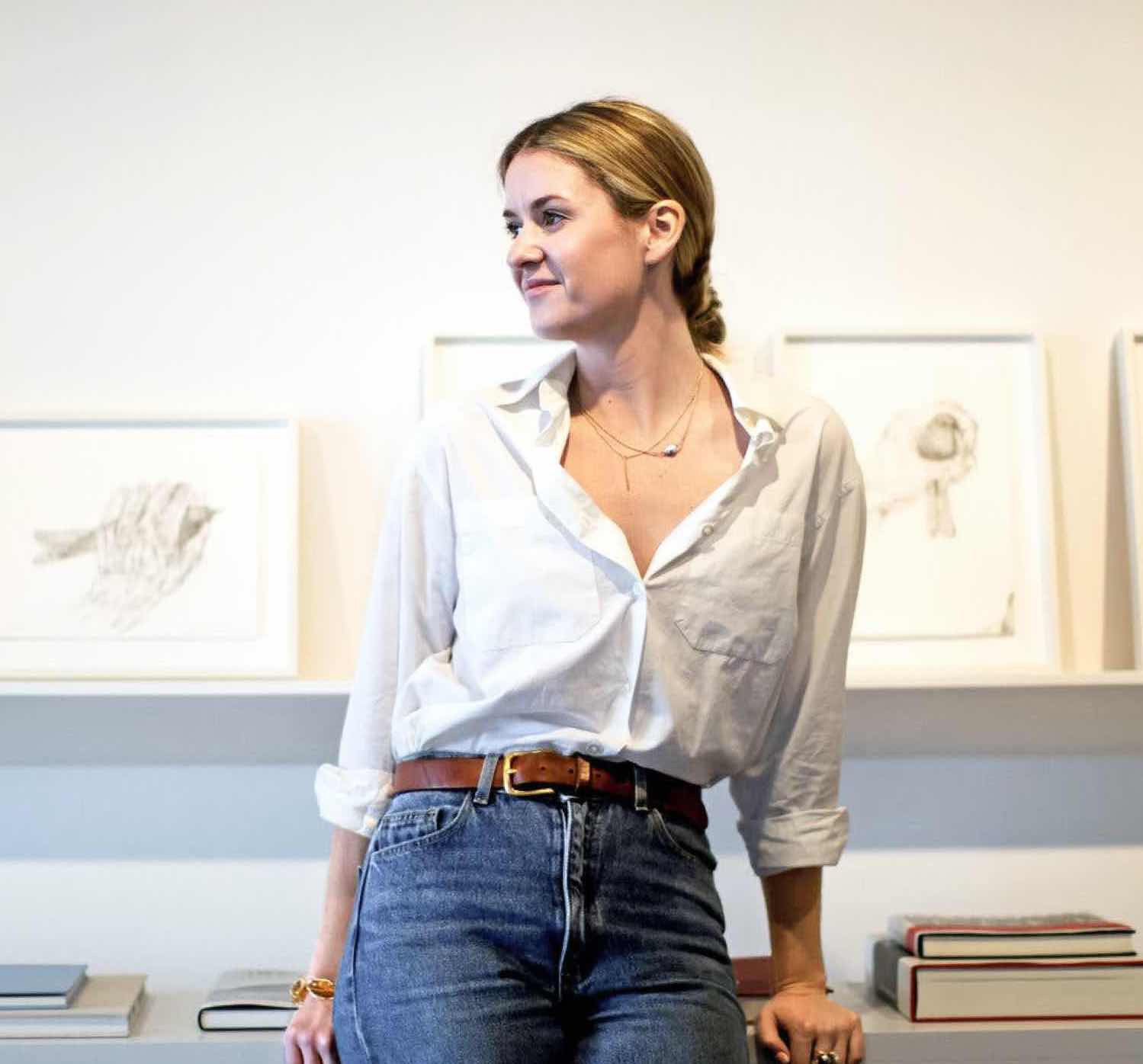 Floating, suspended stones and pearls on delicate gold wire inspired by the coastline and natural world. Find us wearing a pair of Turquoise Studs or a delicate Collar from Mary MacGill this Summer. Meet the lady behind a new favorite jewelry line at Covet + Lou.
Please introduce yourself and tell us a little bit about how you got started.
I was first introduced to jewelry by a dear family friend, Kazuko Oshima, who made beautiful woven pieces out of gold wire and stones. After learning some basic silversmithing and wire wrapping skills at a summer arts camp in Vermont, I knew I had found an interest that would last my whole life. After starting my career with a fine-jewelry company in New York City, I returned to my family home on Block Island, Rhode Island, and began hand hammering gold and weaving wire with semi-precious stones. Inspired by the ocean, grasses, and evolving coastline, I created my first collection and sold the designs at the local farmer's market. The response I received prompted me to establish Mary MacGill Jewelry.
What inspires your collections?
My surrounding landscapes, other artists' work, and thinking through new ways to create a feeling of floating and suspension.
How do you decide what stones and precious materials to work with?
I try to find stones that are organic in form, and have interesting inclusions or other curious features. I have worked with baroque pearls since I first started making jewelry and will always love their swirly, tear drop shape.
You split your time between Germantown, NY and Block Island, RI seasonally. I grew up in the Hudson Valley and now I'm a New Englander based in MA, so we have this in common. :) Tell us about your mainstay studio in Germantown. I've been and it's in a very quiet and charming location.
Oh lovely! It's such an incredible balance to enjoy the mountains in the winter and the ocean in the summer. Our Germantown studio is really my passion project - it's a place where all of my inspiration comes together and I am able to support my creative community by providing explorative space. I feel so lucky to be surrounded by the art work we show on a daily basis – it encourages constant observation and conversation.
What are your favorite spots on Block Island?
All of the trails around the island are pure magic. Scotch beach is a classic Sunday spot for posting up with a towel and enjoying some gentle waves, and Los Gatitos (or Mex on the Deck as we call it) for afternoon tacos post-beach.
Do you have certain pieces from your collections that you wear all of the time? What are they?
It changes every so often, but I am usually wearing 3-5 of our 14k floating rings stacked on my fingers, a stone cuff (amber, aquamarine, tourmaline) combined with a pearl cuff, and a single fringe necklace.
You mention growing up in a household filled with art. Who are some of your favorite artists?
My father was a photography dealer and my mother is a photographer, so our house was a pretty wonderful  survey of the history of photography. My favorite photographers to date include Harry Callahan, Edward Weston, Richard Learoyd, JoAnn Verburg and Irving Penn. In college, I was a fine arts major and focussed on sculpture and painting which opened my world up to the works of Rachel Whiteread, Joan Mitchell, Yto Barrada, Barbara Hepworth, Henry Moore and so many others.
What are you excited for?
The summer – it's the most vital, inspiring time of year with so much daylight to enjoy!