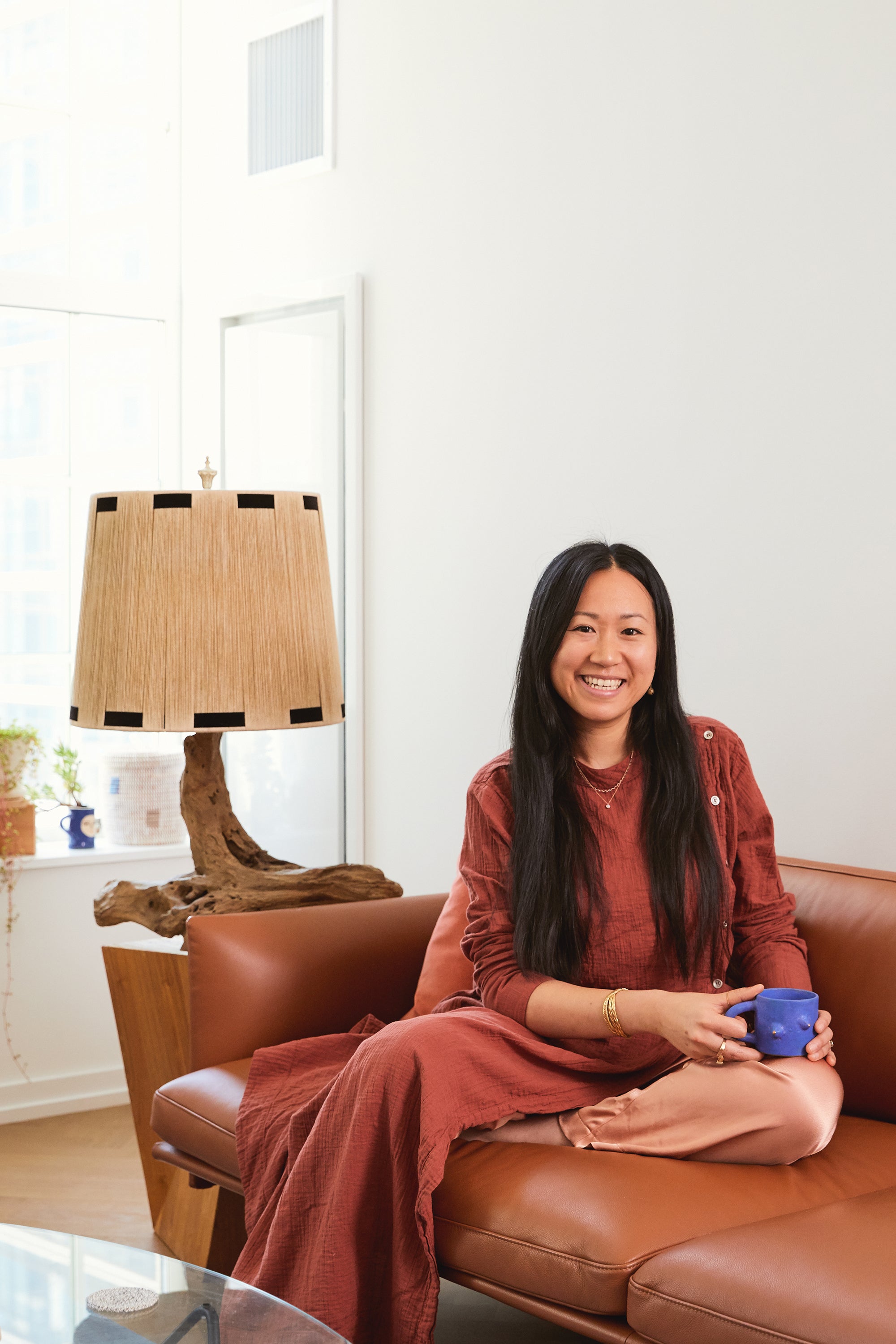 SIN: We spoke with Virginia Sin, the woman behind SIN, a multi-disciplinary design studio based in Greenpoint Brooklyn. With her creative work focused mostly on clay, Sin speaks to us about how this medium keeps her humble even after working with it for so many years and walks us through her day at home and to the studio, along with what is inspiring her at the moment.
We love SIN's statement that "home is where you do whatever you want." Can you tell us what this means to you?
We don't make things. We make comfort. We make reasons to go home. Things you can wrap up in. Things made slow. With two bare hands. Things worth sharing. Or hoarding. Depending on your prerogative. Things that help you find home, wherever you are.
What materials do you primarily work with? What do you love about them and what do you find challenging?
Right now, my creative work is focused mostly on clay. Clay will forever keep you humble. Even after so many years of working in this medium, I am still surprised by its results and constantly learning from mistakes. It allows you to experiment: I enjoy nothing more than testing its limits and pushing its boundaries in how it can be used. The transformation from a completely malleable state to a solid form gets me every time.
What's new for SIN right now?
We are excited to have welcomed two new members to the SIN team this season! We are also working on expanding our ceramic furniture collection and have a few new secret projects in the pipeline we can't talk about yet! Stay tuned!
Best spots in Greenpoint?
Ramona and Broken Land for drinks, Pas Mal for clothing, Home of the Brave for home goods, Tula for plants, Di and Di and Vamos Al Tequila for food!
Your personal favorite SIN creation (if you can choose)?
It changes every season, but currently, I'm obsessed with this little guy: Pillow Talk, Ikebana vase
What/who are you currently inspired by?
My husband and I just returned from my honeymoon in Southern Italy and I was inspired by the ceramic tiles and wrought ironwork and water features! At the moment I've also been finding inspiration in Ikebana flower arranging, Salvador Dali, Valentine Schlegel, and Typography.
Sculptor Valentine Schlegel at work in her studio.
Can you walk us through your day at home and to the studio?

I will wake up around 7:30/8 AM I meditate for 15 minutes while my coffee is brewing. Then, coffee!! Once I get to the studio, I check-in with my team and do a quick status meeting before I start my workday. My workday, however, looks different every single day-- ranging from a list of these activities: prototyping, product development, emailing, designing our brand collateral, managing my team, traveling to visit vendors for sourcing, photoshoots, working on marketing content... the list goes on!
Your best piece of advice to those starting off in your industry?
Have a clear mission, vision, value statement. And never give up on yourself. Persistence and resilience goes a long way in any industry!