The 8 Ball: Julie and Marie Skall of Skall Studio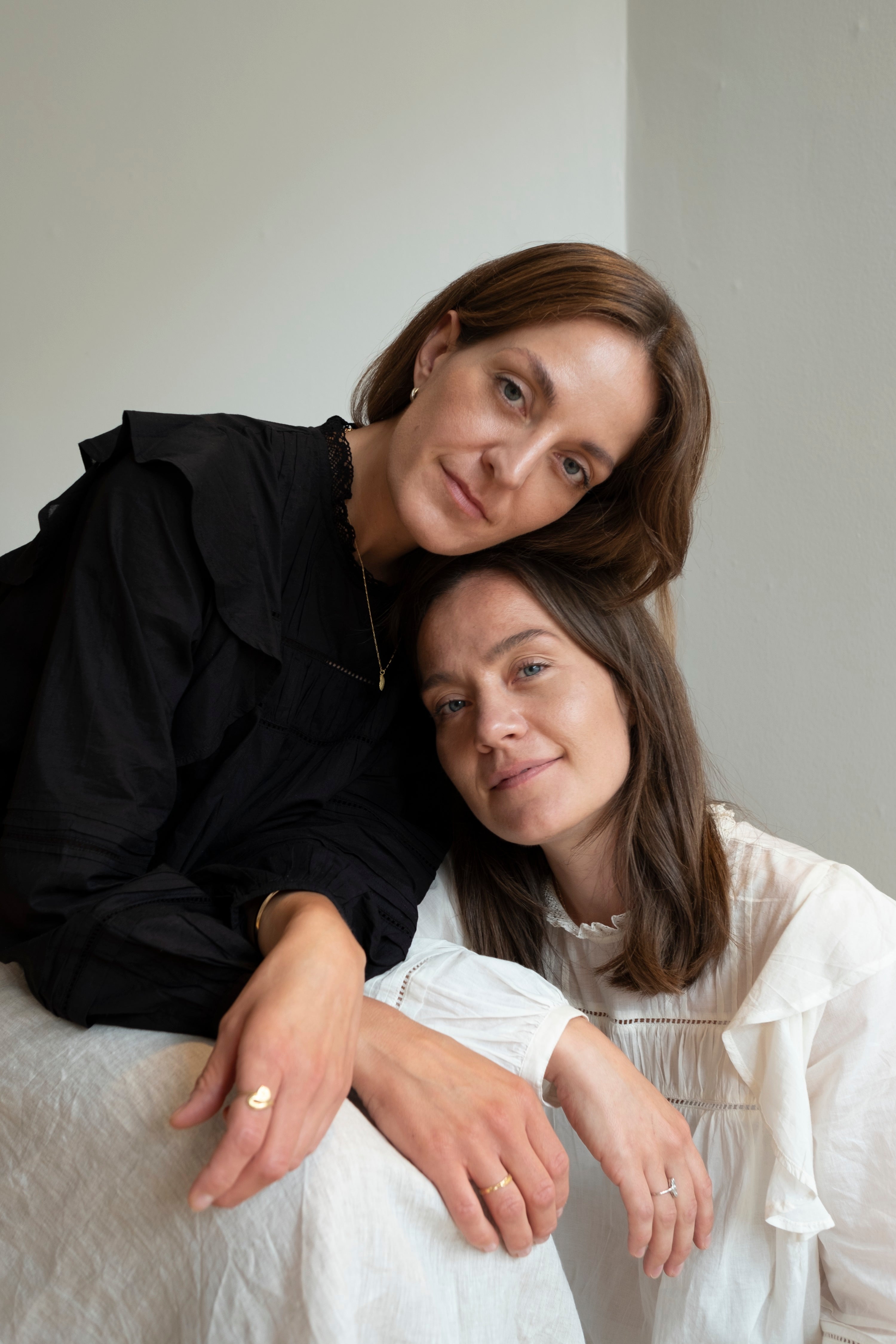 Through glimpses of their Copenhagen life- a Danish wool sweater folded gently in the sun, a kitchen scene with citrus and tea, muses decked out in organic cotton and linen- we've become admirers of Julie and Marie Skall, the sisters behind Skall Studio.
Skall Studio is elegant, feminine, and effortless. Read on for our conversation around Skall's manifesto to make clothes that will stay in your wardrobe forever, their use of natural materials, and the importance of producing locally and sustainably in a world of overconsumption.
Please tell us how Skall Studio began.
Sustainability has been the core value of Skall Studio since our Copenhagen based fashion brand was founded in 2014. We grew up in the coastal area of Northern Jutland, surrounded by nature. A background that plays a great role in our approach to design and preference for natural materials. Before establishing Skall Studio we worked for other fashion brands and were confronted with overconsumption as it was always about creating as much as possible, as fast as possible, and as cheap as possible. We wanted to make fashion in a more sustainable way – and decided to establish Skall Studio.
How would you describe Skall?
With a vegan lifestyle, no use of animal products in the collections and a general sustainable and conscious approach to design and development, Skall Studio has created a design universe of effortless, elegant and feminine styles, where quality is never compromised. Styles that are designed to stay in the wardrobe for many years and to be worn beyond season.
We love the Skall Letters & Portraits you share of your community. What women are inspiring you right now?
Thank you – we are happy to hear. We are inspired by many different women – because we think all women are beautiful and have a story to tell that can inspire each of us. A story that we can mirror ourselves in. Skall Letters are very important to us as they reflect our values and are a way for us to pass some values and inspiration on to our customers.
Can you tell us about your sustainability manifesto?
Well, these days where everyone is talking about sustainability and sustainability can be so many different things, we felt it was important to highlight what sustainability means to us. To make clothes that will stay in the wardrobe for many years, work closely with our partners and ensure good working conditions, to produce locally and only use natural materials, to name a few.
What are you excited about most in the Spring 22 collection?
For Spring Summer 22 we introduce more tailored styles which we think is lovely in combination with our more casual summer dresses and shirts. Also, we are super excited to work even more with undyed colours which have been an important part of our Danish signature knit since the beginning and has now expanded into our new undyed linen styles.
What Skall piece do you find yourself coming back to time and time again?
We have a classic collection including some of our bestselling styles. From our Edgar Shirt and Edgar Pants to our Skall Pyjamas and recycled cashmere. Our customers know what they can expect, and they know that they will get the right size – these are important factors when purchasing online, also from a sustainable point of view as it minimizes returns. Also, since 2014 our Danish signature knit has been made in Denmark – in one of the last remaining spinning mills in Denmark and afterwards knitted and stitched in one of the last remaining knitting factories in Denmark. Because local production, craftsmanship and transparent supply chain will always be essential to us.
How do you hope women feel when they wear your clothes? Or what do you hope your clothes evoke in others?
We hope women will feel at ease and comfortable when wearing Skall Studio – and we hope that you will notice the woman before noticing what she is wearing. Personality is cool, and we think it is important that the clothes leave room for the personality rather than taking over.
What are you excited about or looking forward to outside of Skall?
We are looking forward to having our fourth show during Copenhagen Fashion Week in February. We love to prepare the show together as a team and enjoy the result of everyone's work on the day. Skall Studio is nothing without our employees who make a great difference every day.