The Covet + Lou Playlist ("La Mode se demode. Le style jamais") with Nancy Connery and Judith Stone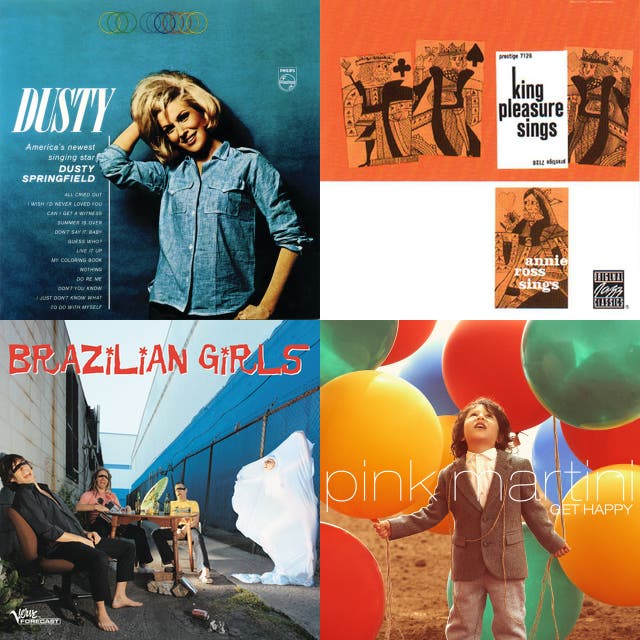 Meet Nancy Connery and Judith Stone. Friends of Covet + Lou and two women in Radio. Nancy and Judith head Home Cooking Jazz, a (mostly) jazz radio show streaming every Monday from 1pm to 2pm at WBRS.org. We are big fans of this duo so we asked them to create a playlist for Covet + Lou- a playlist to match our personality as a store. What did they come up with? "La Mode se demode. Le style jamais." Old stand by favorites and a few newer vocalists as well.
Nancy and Judith will be streaming the Covet + Lou playlist LIVE this Monday, August 9th at 1PM. We'll be tuning in at the shop. You can listen whenever you'd like here.
How did you both end up in radio?
Judith was bitten by the radio bug a long time ago. When her 60th birthday was looming she decided that she wanted to mark the event by doing something entirely new. A friend was doing an Oldies show on Outer Cape Radio in Provincetown and Judith hung out with her a few times during her show. She liked it so much she asked if she could "sign up" to be DJ at the station. She wanted to do it so badly she/we were willing to drive to Ptown every weekend to do a show. This didn't pan out, we think because they may have been afraid that given the distance (we lived in Newton at the time) that it might be difficult for her to always get there. Not to be discouraged, Judith started searching for another station opportunity where she could learn the technology and then have her own show.
Amazingly, Judith found a connection… The Trash Queen from the Catskills, NY was DJing a local radio show for a nearby Women's Prison. She connected Judith with AB Free Radio in Brighton.
We were both working full time at hospitals but we faithfully trekked to Brighton every Tuesday night… it was a dirty, kinda creepy studio but DJ Judith was on her way broadcasting. We later found out it was a pirate station. One night at the Brighton Studio a message flashed on the station computer that Brandeis was looking for a DJ to do Yiddish Radio… this would be a step up! Judith recruited her 95 year old mother to co-host the show with her. Mom did the Yiddish and Judith the English and they played old time Yiddish radio music which found an immediate audience. They did this for several years. Ultimately a slot opened up for a Jazz show and that gave birth to "Home Cooking Jazz".
When Nancy retired she just naturally went along with Judith to the radio station as she loved listening to the music, especially in the studio where the acoustics are fabulous. She never planned to go on mic -- that was short lived and evolved into Home Cooking Jazz with Judith and Nancy - Vocal Jazz with conversation about music and issues of the day - everything from politics, food, what we're streaming, books, gossip….
We work very hard at choosing music, finding themes and getting out weekly show promos. We have found that although our listeners enjoy the music they tell us that they really enjoy our off the cuff repartee and quite often text us during the show to weigh in as well… we really love that, plus we love as do our listeners the "shout outs".
Tell us about Home Cooking Jazz and where or when we can listen. Home Cooking Jazz features mostly jazz vocals but with representation from other genres….everything from Broadway to pop. Due to COVID 19 restrictions the studio on Brandeis campus is closed so our show is currently broadcasting remotely from via zoom and connection to the radio station.
Home Cooking Jazz is streamed every Monday from 1:00 to 2:00 at WBRS.org. Nancy sends out a Monday Morning pre-show promo reminding listeners to listen and providing the theme for that show as well as the play list.
What are you listening to this summer?
Our Covet + Lou playlist tells the story of what we're listening to this summer which include old stand by favorites like Carmen McRae, Jane Monheit, Kurt Elling and some newer vocalists like Cecile McLorin Salvant, Amy Helm, Lucia Micarelli and Brazilian Girls.
We're so happy that you've created a playlist for Covet + Lou. Can you describe the playlist in three words or less?
We're calling the play list we've created especially for Covet + Lou "La Mode se demode. Le style jamais."
It's Eclectic, Nostalgic and Bangin'.