The 8 Ball: Anna Santangelo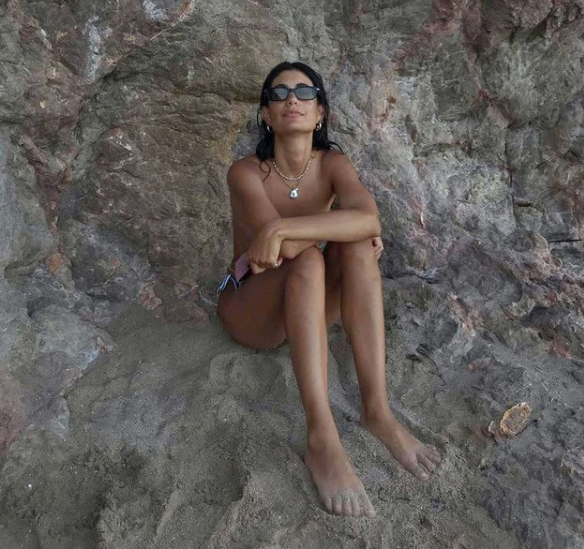 Meet Anna of Santangelo. Jewelry for the last bits of Summer and beyond.
Santangelo, your namesake line, in your own words?
Salty, sweaty, transportive, sexy, tongue in cheek.
How did you start your line?
Sort of accidentally, actually. Celestine Cooney is a very dear friend and mentor who I worked with assisting styling for years, asked me a couple of summers ago if I wanted to make the jewelry for the upcoming Preen by Thornton Bregazzi show she was styling. I had never made jewelry before, except for a few pieces I had made for her (not very well, I'm sure). I figured why not, and set out to the jewelry district in New York to source materials. I sent about 100 pieces to London in time for the fittings, not knowing if they had been used. To my surprise, the show came out and every girl was wearing the jewelry I had made. A rather backwards approach to starting a brand, but things work out in funny ways sometimes.
Santangelo reminds us of Summer and the beach. A bit salty and sensual. Are you a beach person? What are your beach essentials?
I grew up between southern California and Sydney, Australia so the ocean has always been a constant in my life. The ocean makes me feel clean, happy, energized.
Beach essentials: suncream, all natural and reef safe (I like to use this one from Living Libations); water - I keep mine in a double insulated Klean Kanteen so it always stays cold; hat (I sadly just lost my favourite one after a hike the other day); good towel. I've been rotating bikinis between one from Bless and one from a friend of mine - Emsah, amazing hand dyed pieces that are made from recycled Lycra.
How do you like to spend Summers in New York?
Well - I currently split my time between New York and Berlin...but to answer the question I love walking and riding my bike everywhere. Trying to be in the ocean as much as possible, upstate too if I can. If I'm in Berlin, I love being in the forest or at the lakes.
Tell us about the materials that make up your necklaces, earrings, etc. Do you have any sourcing practices you stick by for these materials?
I use pearls, glass beads, shells, semi-precious stones and metals. I've recently been really fascinated with using abalone, amethyst, different types of jasper. I love subverting materials that feel a bit forgotten and use them in a way that feels fresh and modern.
What are you wearing these days?
Vintage always - I rarely ever buy things new. My latest favourite find is a pair of oversized men's Versace jeans from my friend's store in Greenpoint, Lara Koleji. I've also been rotating two pairs of large drop style earrings from the new Resort 22 collection I made which I've been really loving - they add a nice balance to my inherently boyish style.
We've seen you on our friend Lauren from Lauren's All Purpose journal recently. Besides LAPS (which we also love), what else do you keep in your beauty or general wellness cabinet?
I try to keep it simple and natural when it comes to beauty. My mum never wore makeup so I've always looked up to that. Bare skin is always the sexiest to me. I use Living Libations Seabuckthorn Best Skin Ever to wash my face and moisturize. My skin is the best it has ever been because of it and it smells like an absolute dream. One of my other secret favs is Emugency all purpose moisturizing stick - I love wearing it on my eyelids and on my lips.
Recent moment of clarity or inspiration that has struck you / stayed with you?
I've been recently so inspired by a new friend - Ana Botezatu, an incredible Romanian artist that I had the immense pleasure of working with for the latest Resort 22 campaign. She's immensely funny, real, and insanely talented - it's been super special to connect. She inspired the name of the new collection, a favourite German saying of hers she shared over dinner before shooting together. It translates to "Everything has an end, only the sausage has two" - a playful reminder of an otherwise very real truth!
Be present, have gratitude for your successes and failures, prioritize time and space to connect with family, friends and community <3