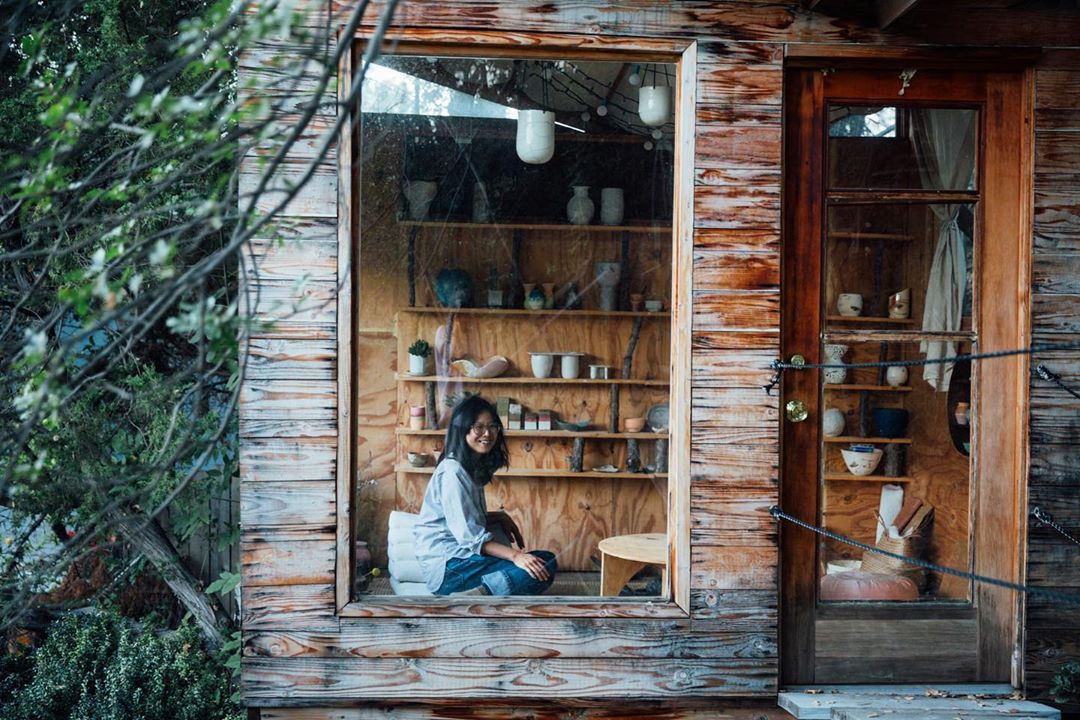 Photographs by Lindsey Kusterman
Los Angeles based ceramicist, Raina Lee, tells us about her treehouse studio and the turmeric ginger golden latte she has been making for herself lately.
Tell us about yourself.
I'm an artist based in LA and I love experimenting with form and unusual textures in ceramics. In my other life I'm a writer with a background in technology and video games. My video games and sci-fi tendencies tend to make the ceramics a little outer space-y and alien.
How would you describe your ceramics?
Like relics in parallel day-glo dimensions! I'm interested in making works from the subconscious, familiar forms in colors and textures you've only ever dreamed about.
Can you tell us about your treehouse showroom? It's fantastic.
Thank you! I am so lucky to have it. The treehouse was in my backyard when I moved in. Originally I used to go up there to just do yoga, write, or take naps. When I started going into full production mode with ceramics a few years ago, the ceramics were taking up space in every corner of our house! Mark, my partner who is an architect decided to use remnant wood and foraged backyard tree branches to build shelves in the treehouse to store the ceramics. Since then, it's been the perfect place to display the work and to have the occasional cake and tea.
Have you adopted any new practices to keep yourself calm during this time?
Since I work mostly from home, my life is thankfully not too different, except now I obsessively make comfort foods. I'm now making boba milk tea, jasmine green tea and every other drink you'd get at the boba shop. We also go on long neighborhood hikes now. We live in the Mount Washington neighborhood of LA which still feels unkempt and wild. We are lucky to have unpaved roads, woodsy trails, and secret staircases to explore everyday.
Who are your muses? What influences you?
I'm interested in the strangeness of the natural landscape but also by art history and contemporary art. I love the classical forms and glazes of the Song Dynasty as well as the masterful work of Lucie Rie, and Isamu Noguchi. I'm also influenced by extreme physical landscapes, such as the black basalt beaches of Iceland, the live volcanoes of the Big Island, and the rock formations of Zion, Bryce or Arches in Utah. I'm fascinated with how so many colors exist in the natural world and that blues, purples, greens, and reds are created by the same compounds we use in ceramics. They all come from cobalt, copper, manganese, and iron, which is from rock.
Do you have a morning or night routine that is keeping you grounded?
Every morning I do either the Ashtanga Primary Series while listening to Stereolab or online yoga with all my favorite teachers.
We love the use of color in your work. What colors do you find yourself always gravitating towards, in life and in your work?
I played a lot of video games as a kid and tend to go toward bright screen colors. Conversely, my home is earthly with lots of estate sale found textiles and prints, but I do love wearing bright pinks, neon greens and whites. I have a favorite Rachel Comey chartreuse green linen jumpsuit that seems to match the neon green glaze I've been using this year!
Please share a recipe with us that we can enjoy in one of your ceramics.
I love having this Golden Latte on ice or frothed hot!