The 8 Ball: Karen Mordechai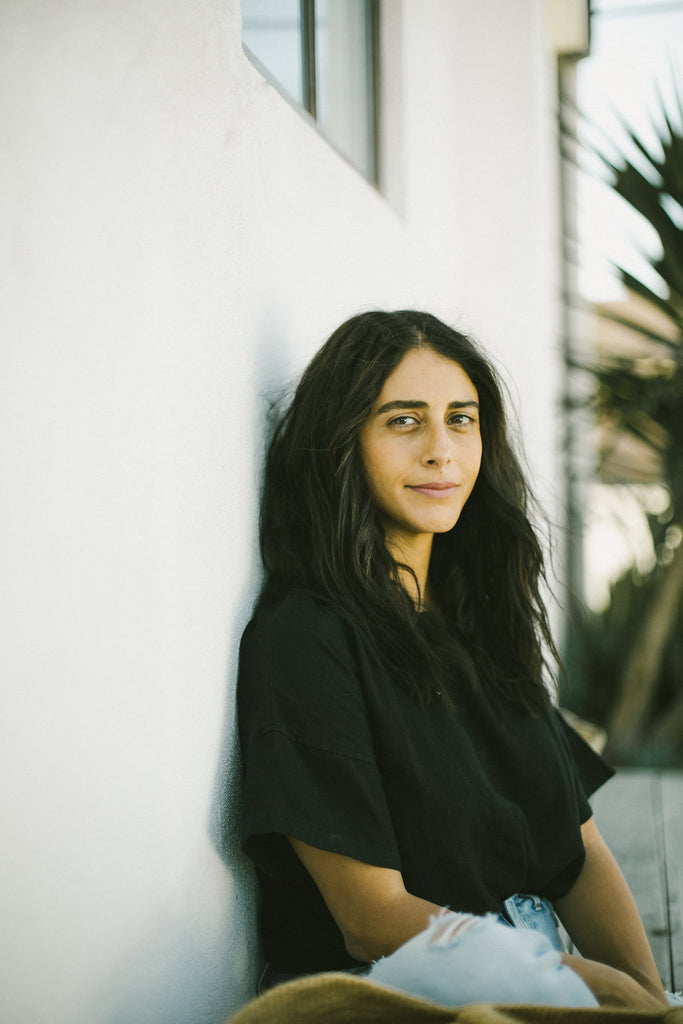 ILĀ is a collection of essential ingredients for your kitchen and home, each ingredient rich in its own history and tradition, to be used in concert to create new meals and memories. Founder Karen Mordechai sources ingredients from farms, purveyors, and artisans around the globe with care and purpose. She talks to us about food as the backbone of immigrant traditions, the starting of Sunday Suppers, her pantry staples, and her recipe for Dark Chocolate Olive Oil Cake.
Tell us about yourself and how ILĀ came to be.
These days I am many things — an artist, a mama, a wife - a photographer, cook and entrepreneur — and a cookbook writer. That is a mouthful, but as a creative I tend to flow through all of those things and I've found that over the years I can see that the journey has brought them all together for me.
I grew up surrounded by food, as it was the backbone of immigrant traditions in a new environment. My family brought their cultures and traditions and expressed their love through meals of plenty. Their story (and their food) was a complex and varied one rooted in Jerusalem in the 1950s, a time in which ethnicities from around the globe were melding together in a young country. Influences from the Middle East and Eastern Europe were converging to formulate a new community. When my family then immigrated to the United States, they brought these melded cultures with them. As I developed my own viewpoint, these influences, along with my current journey, created my own path. I was always fascinated with food. I was drawn to its beauty and also moved by its cultural significance. I studied as a photographer, and in 2005 I did my master's thesis on the food in my home, through the scope of its maternal lineage. A few years later, I began Sunday Suppers.
My husband and I moved our furniture into the back bedroom to make way for a long dining table. We cooked a meal with ten of our friends, sat down to eat, and had a lovely time. The mood was casual and spirited, and the feeling of achievement filled the room. Word about that first supper spread quickly and so the story of Sunday Suppers began. From there, we grew into a beautiful industrial studio that served as a communal cooking and dining space where we collaborated with many talented chefs, artisans and makers. We also have three cookbooks and have been hosting a global series called Sobremesa around the world.
Four years ago, ILĀ — a kitchen essential line was born from years of cooking and nourishing the people around me. I wanted to collect my favorite ingredients, choose them carefully - and offer them to people everywhere. The aesthetic in me was also very interested in creating packaging that is both functional and beautiful — something you would happily place on your kitchen counter.
The origin of ILĀ is rooted in Hindu Mythology, and is named after a woman whose story is deep in meaning and tale. The story of ILĀ is a woman whose beauty was irresistible, she is gentle, kind and a spirit of the ground. Literally translated, ILĀ in Sanskrit means earth, beauty and prayer.
Where are your favorite local spots to shop for fresh food?
We moved to LA a couple of years ago from NY and still cannot get over the produce and markets in California, it's been incredibly fun to go to the farmers markets, I try to go once a week to the Wednesday Santa Monica one. It's my quiet time and always inspires me and I love that it's near the ocean.
Beyond that I try to shop small as much as possible, I love little grocery shops like: Gjusta, Erewhon - or canyon gourmet in Topanga which is on my home most days - perfect to stop in for the little essentials you need for that night's dinner. I do lots of small runs all week, I'm not really suburban (or organized) enough to do the traditional big grocery shopping.
Staples that are always in your refrigerator and cabinets?
I'm big on garlic, lemon, olive oil — I make large a confit of garlic every couple of weeks - I can't cook without it. I also tend to make preserved lemons and sometimes a tomato or mushroom confit. I'm big on strong simple flavors and love having these in my fridge at all times to elevate any dish. I feel that these are the building blocks of flavor and love the nuanced robust versions of them in cooking. I like to make extra jars to share with friends and neighbors.
We have lemons and an abundance of citrus in our yard including grapefruits, oranges and blood oranges.
I'm a huge fan of good salts (obviously) and a great olive oil. I tend to break the rules and use the good stuff cooking not just serving.
Other things in my fridge and pantry at all times:
avocados, mushrooms, greens and tons of herbs
a stinky cheese
harissa
all the ILĀ spices in bulk, especially turmeric and cinnamon
olives
lentils, grains
there's always a bundle of fresh pasta in my freezer
oh and bone broth
Can you share a meal that you have been enjoying recently?
Well we are currently in Quarantine as you know so there has been LOTS of cooking. We've been making all our favorite comfort foods - they've been feeling warm and nurturing. Pretty much anything in a bowl — lots of chicken soup, stews, lentils and curries. Most recently we made a Korean beef bowl with rice and lettuce cups which was a big hit, and so many pastas and carbs.
Your favorite restaurant in your neighborhood?
Dare I say we need one! We're in a remote part of town, close to Topanga Canyon and there's definitely a need for some great food here. We tend to travel for a good meal though and we'll go to the westside to visit some favorites like Gjelina, Gjusta, Onda, Roberta's and others.
How do you source the ingredients that make up ILĀ?
After years of cooking and creating food — it became clear how important the integrity of ingredients truly is. These ingredients can be simple and straightforward — or they can be nuanced and exciting — but either way they should be fresh, carefully harvested and used with a sense of consciousness. From this spirit - ILĀ was born.
ILĀ is a collection of essential ingredients for your kitchen + home.
Carefully sourced from farms, purveyors and artisans around the globe, each of our products has been selected for its integrity and delivered to you with great care and purpose. They are our favorite ingredients — collected over the years.
Please share a recipe with us.
Sharing the chocolate Olive Oil cake from Simple Fare — Spring Summer.
Read more of ILĀRead more of Jaimie FitzgeraldRead more of PantryRead more of The 8 Ball