The 8 Ball: Grainne Morton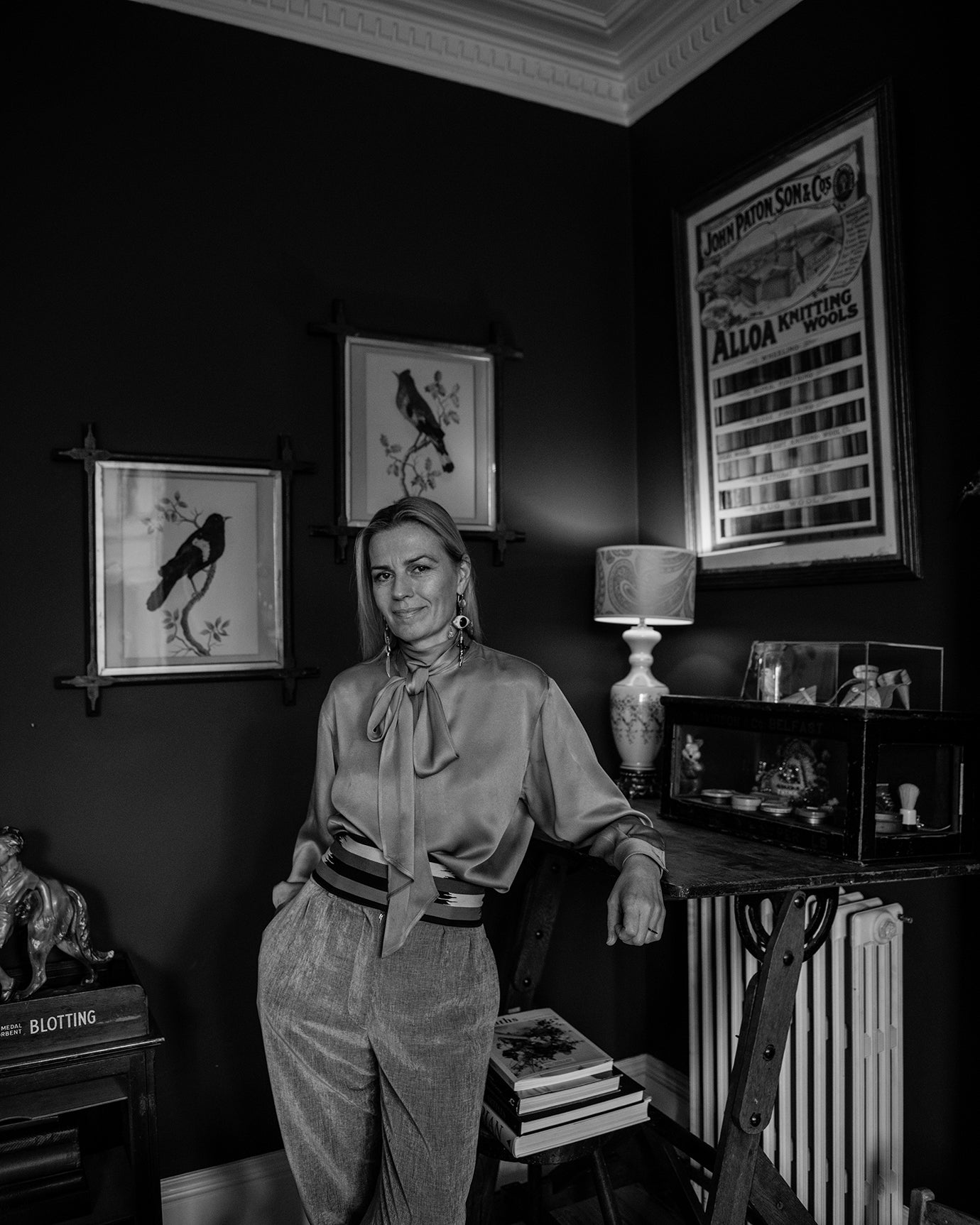 Semi-precious stones, antique buttons, shells, and found objects. These are the items that make up Grainne Morton's striking jewelry pieces. Grainne grew up in a small town in Ireland with parents always encouraging her creative freedom. We can't help but feel that the folklore, mysticism, and traditional craft of Ireland is what makes her jewelry so special now. In this one-on-one with Grainne, we speak about the symbolism in her work along with her own personal style of color and contradiction.
Please tell us about growing up in Ireland.
I grew up in a small town called Coleraine in the north-west of Northern Ireland very close to the coast. We lived in a beautiful Victorian townhouse close to the centre of town. I went to school in a different town – nearly all the schools at that time in Northern Ireland were single sex schools, but I wanted to go to a mixed school.
After school, we would get the bus back to Coleraine and go for coffee at one of the various haunts that school kids hung out in. Most kids who grew up in Northern Ireland head off to England or Scotland for college or university, so I always knew that at 18 I would do the same.
In a way, I had 'itchy feet' in my youth – always thinking I was missing out in this small northern Irish town, but looking back it was a great place to grow up. There were lots of independent shops that I wandered in and out of endlessly as a teenager. Having the Causeway coast on our doorstep was wonderful, and up when I was a child we also spent many of our weekends and some of the summer holidays in Donegal – in Port Salon and Rathmullen.
How has your upbringing influenced the way you create now?
My parents are both very creative. My mum was always mending things and is a great knitter. She was obsessed with being individual and instilled that in me from a very young age. My dad was more technical – great at drawing. They both encouraged me to be creative.
I was always making things. My parents had great individual style and I became very into clothes and accessories from a young age and would often make my own things whether it was jewelry or adapt my clothes – stitching patches and zips on jeans or drawing on shoes with a permanent marker. I have fond memories of being a kid and seeing trends, but not having the resources (financially or have access to stores in N. Ireland), and creating my own versions of these trends.
How do you describe your personal style?
Just like in our jewelry I love colour and contradiction. I like to clash prints, but always have a theme tying everything together, usually in a particular colour. I mainly wear vintage clothes or pieces from small up and coming companies. I love socks and tights, especially highly patterned or lurex versions of each. I have always loved a frilly collar. I think this stemmed from seeing pictures of Lady Diana in my youth.
Tell us about the jewelry you create, in your own words.
In our jewelry our manifesto is to create highly individual, unique pieces that are incredibly covetable. One of the ways we are able to do this is through our use and of materials and curation of objects. The juxtaposition of semi-precious stones with antique buttons, shells, and found objects.
Can you speak to the symbolism in your work?
Symbolism has always played a part in our designs. I love symbolism. The Victorian era has been a constant source of inspiration throughout my career. ' The language of flowers', scrapbooking, mourning jewelry, all have symbolism as a common theme.
What do you hope your jewelry evokes in others?
I want our jewelry to spark joy and nostalgia.
Favorite 'anything' at the moment (artist, meal, designer, etc.)? Please choose something that is keeping you inspired or happy.
Gloria Vanderbilt. I always wanted to own a pair of her jeans in the 80s, and a few years ago I bought a vintage pair in NYC. I loved her logo. Her signature and the swan. I only became aware of her incredible life story and impeccable taste in the last few years. I loved her style and I now own several books by, and about her.
Your favorite part about living in Scotland?
I moved to Edinburgh from Northern Ireland in 1988 to go to Edinburgh College of Art. I had spent a lot of time here growing up, as I have family just outside Edinburgh.
Edinburgh itself is stunningly beautiful and steeped in history. I never grow tired of living here and I'm incredibly grateful to call this city home. I love its scale and the fact that in moments you can be in the countryside or the coast. A few hours and you are in the Highlands. Scotland is a very special place to live.