The 8 Ball: Fabiana Pigna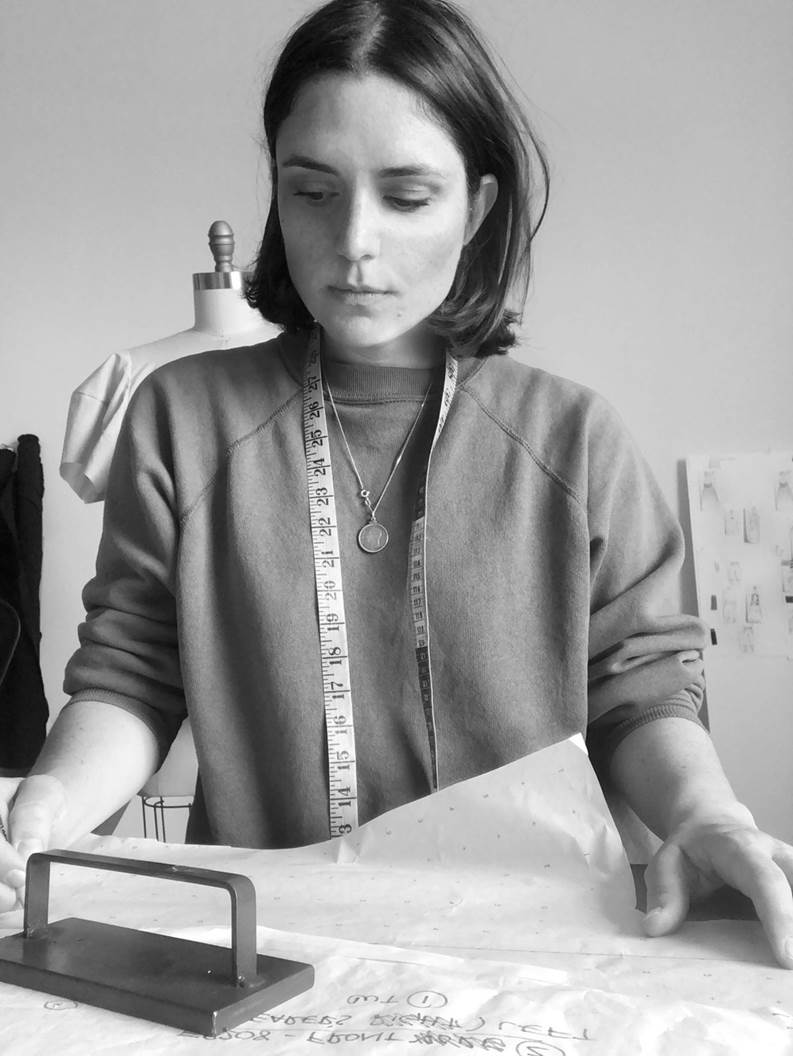 Fabiana Pigna is a Venezuelan fashion designer based in Los Angeles, California. Fabiana's collections are as memorable as they are wearable. Crafted from the highest quality Japanese and European fabrics, each collection embraces sculptural silhouettes, timeless clean lines, and some unexpected details. In her own closet, Fabiana cherishes comfort and practicality above all things and names Helen Frankenthaler, Rei Kawakubo, Viviane Sassen and Agnes Martin as north stars when it comes to staying freshly inspired. We're so pleased to welcome Fabiana Pigna to Covet + Lou and we hope that you feel inspired by this vibrant, playful and elevated collection.
Your line, in your own words, if you had to describe to a stranger?
A handcrafted womenswear line focused on sculptural silhouettes and timeless wardrobe staples, each with unexpected details. The pieces are easy on the body and thoughtfully designed for interchangeability.

My focus is on excellent craftsmanship, uniqueness, and longevity. I am deeply inspired by Japanese fashion, and I like to fuse that with my Latin American roots.
How did you get started and how do you feel about where you are now?
I had been designing for a fashion company for some years and was itching to start my own thing. It all began when I found a "paper" poplin at a dead stock fabric facility in LA. I was in love with the material and decided to develop a collection using this fabric alone. For each of the first 9 blouses that I made, the focus was only on shape and detail in poplin. That concept became Spring/Summer 2015. With the help of my three closest friends, I photographed the collection. Then I pounded the pavement in LA with my look book in hand and was lucky enough to get orders from a couple of my dream stores. Since then, I have been evolving and growing organically. I feel so fortunate to have grown the business to a sustainable level and to do what I am most passionate about.
What is the most fun or inspiring part of your role?
We are a very small company comprised of my partner, Miles, and myself, so all roles in the company are our roles. We wear all of the hats all of the time, and I find that exciting and challenging. There is never a dull moment. Of course, designing and developing a new collection is the most exhilarating thing, it is a mix of creative bliss and extreme vulnerability, which can be difficult at times. Making patterns is probably one of the most zen and grounding things I can think of. It seems technical but also such an essential part of who we are. Creating maps and puzzles that then become clothes which fit our moving bodies.
What does the inside of your closet look like? Color-wise, fabric-wise, etc?
I cherish comfort and practicality above all things. In my closet, you will find samples from my different collections which I constantly test drive to see what needs to be improved. Since it is mostly warm in Los Angeles, my closet is filled with natural fibers. Apart from my own clothes, I own some vintage pieces from Jil Sander and Yohji Yamamoto. I also started collecting cotton blouses from the turn of the century that appear to be indestructible and seem to be full of stories. That right there is my goal: a piece that will last you forever and can be handed down for generations.
"That right there is my goal: a piece that will last you forever and can be handed down for generations."
Pictured: Fabiana Pigna Rosario Blouse in Blue Stripe.
Tell us about this new collection and what to expect! We're so excited to have you at Covet + Lou.
I am so excited to be at Covet + Lou! This is a very special collection, full of vibrancy and playfulness. The materials at play in this Fall collection manifest expressive silhouettes infused with bright, effervescent tones. The elevated voluminous shapes are well grounded, wearable, and carefully made.
How do you like to style yourself?
It depends on my mood. Currently, I wear my elasticized waist pants in Japanese cotton, one of my voluminous airy cotton blouses and leather fisherman sandals. I carry a big canvas tote to carry my work materials and an additional backpack with more work! haha
The best part about being based in Los Angeles?
Even though I am originally from Caracas, Venezuela, I am a creature of Los Angeles. I have been in LA for almost 20 years and can't imagine living anywhere else. I love this city with all its idiosyncrasies and complexities. The best thing about working here is that everything is a stone's throw from my studio. If need to pick up trim, check something at the factory, dye some fabric etc, I'm there in 10 minutes. I also like making a product that doesn't particularly reflect the perceived idea of Angeleno fashion. It is interesting and exciting to create unexpected things and challenge the spectator.
Shop Fabiana Pigna at Covet + Lou.