The 8 Ball: Camiel Fortgens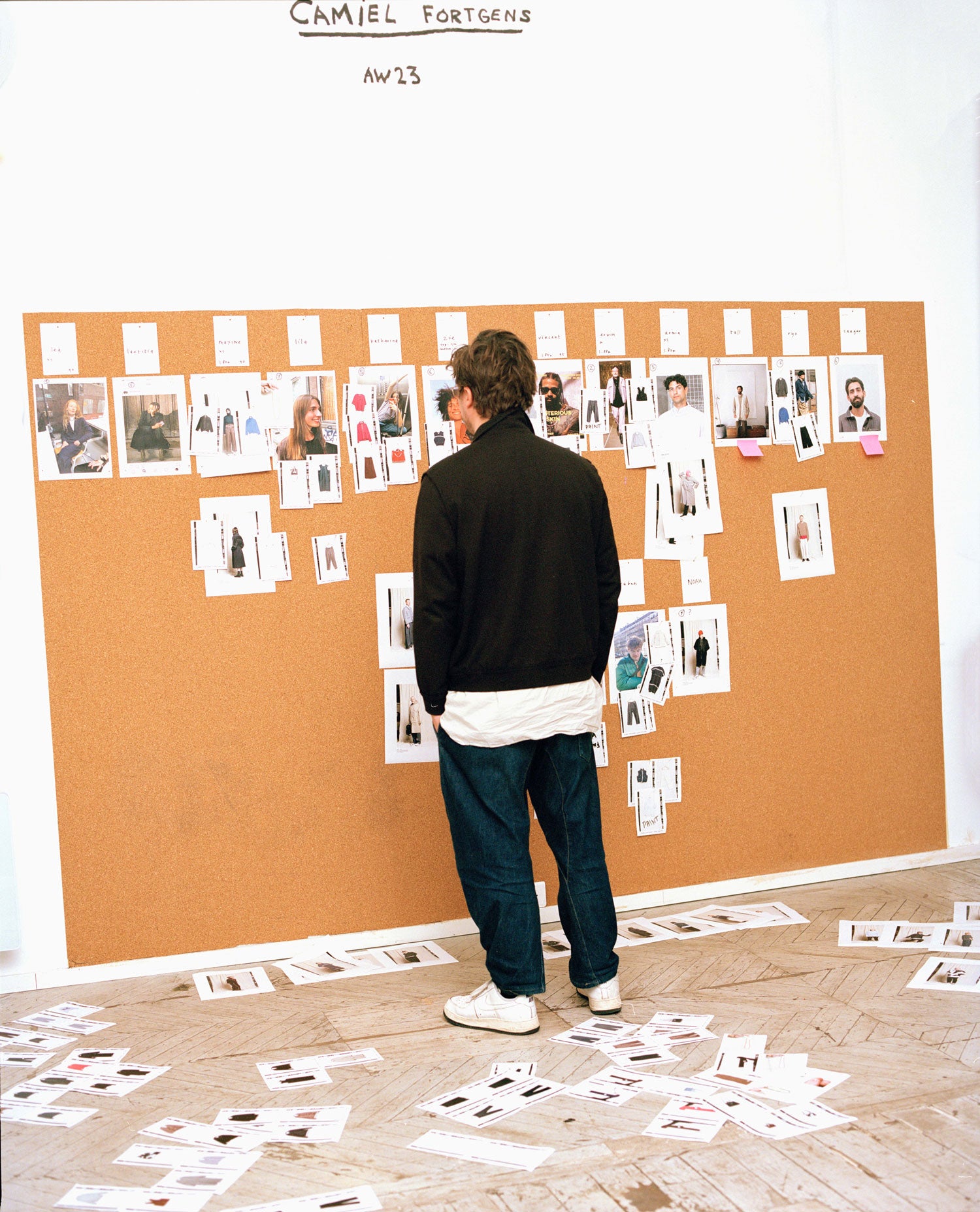 Amsterdam-based Camiel Fortgens works with shapes, fabrics and details of archetypal garments to create reconstructed, unpolished wearable pieces. Their design philosophy is led by what feels right today, creating an image/philosophy that challenges normality.
A note from Camiel:

If I write texts,
I write it as if I would speak.
And I organize it by a lot of spacing, commas, and repeats.
It almost becomes like a poem form, sometimes.

I know this does not conform to  the norm of how we know texts,
But I kinda like this imperfection also in the texts.
So maybe it is nice to keep this in, and even maybe mention this.

Should we correct the grammar even?
If the main message is clear, why try to polish it, for the sake of polishing?
The text is not perfect, 
I'm not perfect, 
But that's fine?
How did you end up where you are now, with your own clothing line?
Mostly by just doing, thinking creatively, and some more doing.
I knew I liked making/designing garments.
From my 15th I started sketching designs.
I didn't want to go to a fashion school.
So ended up at the Design Academy Eindhoven.
It is originally an industrial design school, but I was more or less educated as a creative director.
It was a lovely school. Whit a very brought and open education.
I made chairs, movies, and porcelain along the way.
For my graduation, I wanted to make a clothing collection.
My tutors suggested I'd better not do this, as I never made clothes before.
I insisted and made my first collection.
It turned out well and was received well too.
With this background, I basically was an outsider to the fashion industry.
I never learned how to sew, make patterns, build a collection, or present a collection.
I embraced these flaws and just started making and turning them into the strengths and signature of the brand.
If wanted to sell the garments, the Dutch market would be too small.
I realized I needed to go to Paris to sell the collections to meet stores from all over the world.
I rented an Airbnb and looked up brands I liked and made a list of stores they were selling in.
I looked up these stores and sent them an invite to their info@ emails.
The first season 3 stores came, 1 Japanese store bought.
The second season, 10 stores came, 3 stores bought.
The ball started rolling, growing and growing the brand every season.
At first, I did everything myself, but I knew some things others would do a better job,
so I searched for help in running the business, pattern making, production, sales and lots of other things.
Building an amazing loyal and committed team,
a team that has been going beyond the normal input and effort.
people believing in what I started and the vision I had/have. 
Together we're:
'doing, pushing, thinking creatively and more doing.'
Hustling our way up.
Looking at your imagery on your site + Instagram, streetwear or street style seems to play a part of Camiel Fortgens. Is Amsterdam a good place for street style in your opinion? 

I think so,
Amsterdam always has been an outspoken and rebeling city.
From Punk, graffiti, skate scene, music, and hiphop scene, sneaker culture.
It definitely used to be a good place for street culture.
Not sure if it still is. It became more international and generic I think.


Where do you like to go and get out to stay inspired or people-watch? 

This can be anywhere and everywhere I guess.
Places where people live and work.

Places where 'real people' move about.
People dressing authentically.
How they like in style or in function.
A look or style that to their liking or even accidentally came together.
On the street or in photo books, and documentaries.
I also like to look into vintage clothing.
Ever since I worked in vintage from my 15th until now, I gained a lot of inspiration from it. 
On the web, but also on local markets.

What do you love most about an unpolished versus polished look? What does that look like to you? 

I feel like a polished/perfect look or garment is sort of a facade.
We hide the signs of craftsmanship / the hand of the maker.
We confirm a uniform style that blends in with our surroundings.
We hide our imperfections with perfect items.

Maybe we as humans don't like to embrace imperfections anymore.
Being surrounded with mostly 'the perfect' images.

I think it's important to show some imperfections,
show some 'real' / unpolished garments/people/style.
When do you feel your best?

Swimming in a river in Italy, having some lunch, browsing a market, making plans and ideas.
What materials are you instantly drawn to? What materials do you like to work with?

Mostly Iconic fabrics of high quality as used in vintage garments.
Mostly these are dense, sturdy, slightly more heavy natural fabrics.
Mostly fabrics of high functionality or a strong link to a certain culture or time.

What are your interests outside of fashion and design?

Nothing actually.
No, I'm joking.
People; how they are, move about, interact, think.
Nature; how it is, smells, feels, moves.
Art; people

What are you listening to / reading / watching at the moment? 

Listening:
It's very fragmented and moving quite fast.
Not really one thing, like you used to listen to a CD.
I can make a list: a playlist.
Reading: not reading much.
I loved 'The Eight Mountains' by Paolo Cognetti, as a book and as a movie. 

Not much of a reader.
Maybe it's because I'm dyslectic, 
or maybe it's the time and I'm not used to perceiving things slow like texts, 
or maybe I'm just impatient,
or maybe it's because I like things visual.

Books I like:
'Eindhovenseweg 56' by 'Ton Grote'.
'vintage menswear' by 'The vintage showroom'
'The Whiteness of the Whale' by Paul graham
'Exactidudes' by Ari Versluis and Ellie Uyttenbroek