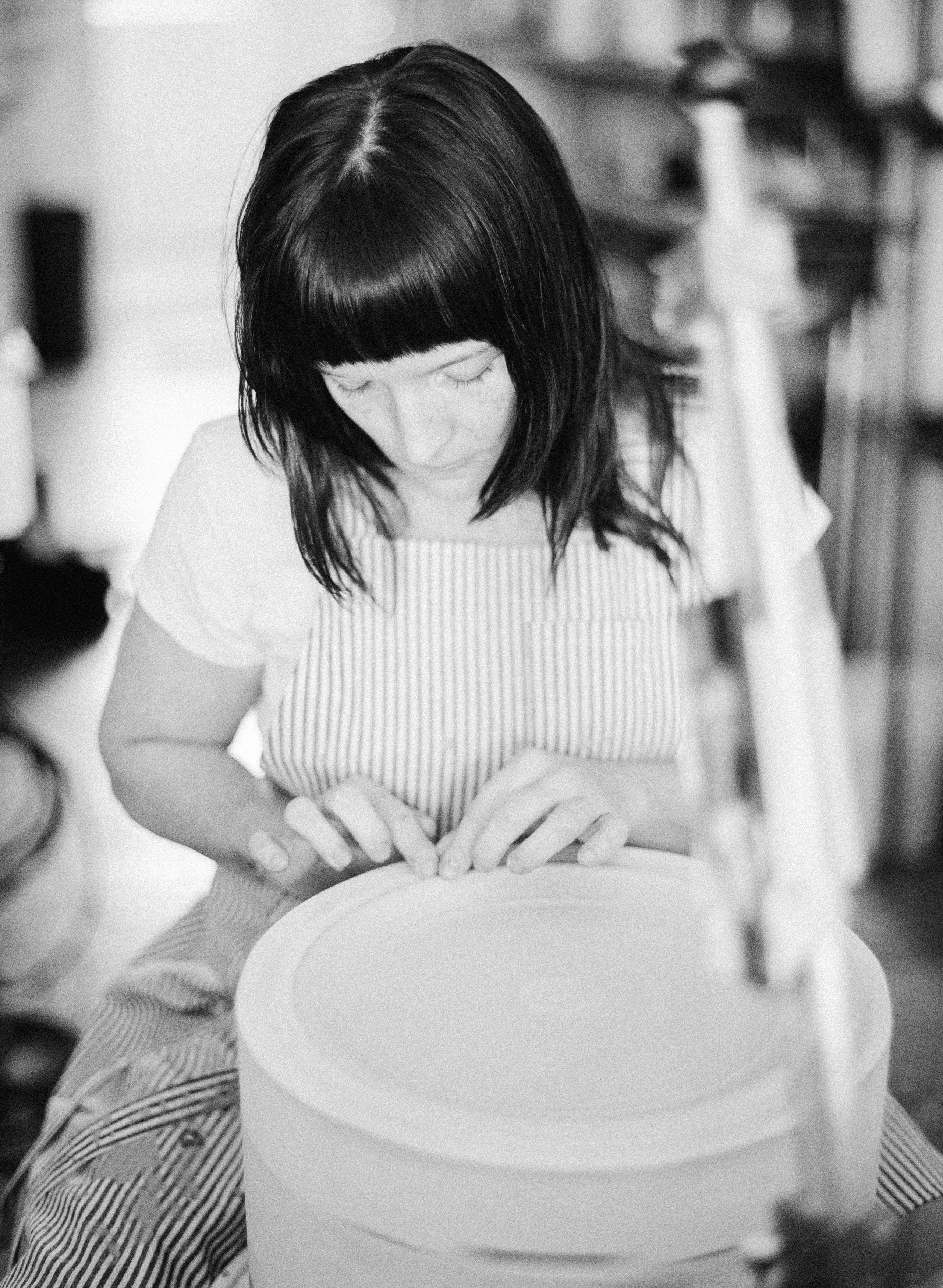 Photograph by Gabriella Riggieri.
For Valentine's Day this year, Covet + Lou is offering an exclusive and limited edition collaboration with our local friends, Forêt Design Studio and Myrth. Founder and Designer of Myrth, Abby Smallwood, tells us about the limited edition piece she's made for us in our chat with her today.
Get to know Erin Heath of Forêt Design Studio, here.
Can you tell us how Myrth started?
Myrth was born when a hobby turned into a business. In 2008 Eric and I craved a creative release from our busy 9 to 5 design jobs. A friend of ours had just taken up a pottery class so we joined him. Seven years later, still loving it, we sought to take more control of the process by running our own firings, making glazes, and batch making products (all of which were not possible in the community studios). We hunted down a studio space and Myrth was born. Our first project was actually for Forêt! We created votives for their wedding tablescapes. Myrth has evolved from a creative outlet to our dream job where we have full creative control of our process and product.
Does Myrth have a signature look?
We do! Myrth's focus is on minimal forms with calm, natural surfaces. Our beautiful, yet functional products are intended to elevate the everyday. We designed Myrth's color palette with complementary shades that are meant to be mixed and matched.
Please tell us about the piece you created for Covet + Lou!
Our tumbler vase was created as a multi-functional vessel that can be used as a vase, as it is here with this beautiful arrangement, and as a tumbler for your favorite beverage. It's made from a durable porcelain clay and glazed in Mesa, our warm, taupe glaze.
What are you filling your Myrth mug or bowl with this winter? Any recipes you care to share?
Getting the new studio up and running has meant we haven't had a lot of time for cooking (bummer because I love cooking!) so we have been focusing on simple yet delicious meals. One in particular which has made the regular rotation is roasted sweet potatoes with tahini butter and sumac. A simple but very satisfying lunch. I'll roast a couple sweet potatoes as I'm getting ready in the morning, tossing them in just before I sit down with my morning coffee. I dress the potatoes with butter, tahini, salt, pepper, and some crumbled feta. Then smother with spices. I'm a flavor junkie with a serious collection of spices. Sumac has been a favorite lately so I'll sprinkle that on top along with some Urfa pepper and cumin. Lastly, top with a good squeeze of fresh lemon juice and a dab of Greek yogurt, or labneh if I have it (Samira's is my absolute fav). Serve in our 8" Bowl, my favorite piece in our dinnerware line right now. We eat virtually every meal in it.
Tell us about working together with your husband, Eric. What roles do you each play in the business?
I couldn't have a better partner in business and life. Eric and I have dove-tailing skills that have helped us run Myrth collaboratively. We both have backgrounds in product design, he in hardgoods (consumer product) and myself in softgoods (shoes, apparel). Our collective backgrounds have given us a spectrum of product creation skills that spans from engineering to marketing. Eric is our chief engineer. He leads the design of our manufacturing processes and our glaze chemistries. I focus on our look and feel, from glaze color palette to our photography and communications. Our skills meet in the middle with the actual design and function of our products.
You recently moved to Somerville! What's in store for your new studio space?
We are so excited to be in Union Square with its great community of neighboring small businesses including Forestbound & Recover Green Roofs. It's also very close to our friends at Bow Market. Our new studio offers us more space to grow our production and in turn our product line. What I'm most excited about is that the studio has street access which means we will be able to host regular open studio days. When you visit Myrth you'll be able to shop all of our products in our showroom which looks out on to our production floor. We are excited to share our studio with our Myrthlings (my loving name for our friends & fans) with a grand opening party in the spring.
Can you tell us about your creative process when coming up with a new vessel?
Product creation has become such an in depth (and fun) process for us. We generally start by identifying the function of the new piece. How is this to be used? How will it interact with other products in our line? From there, we sketch several versions of the piece by drawing, hand-throwing a model on the wheel, or both. Once we have pinned down the form, we will define the manufacturing process or how we will make multiples in our studio. We currently use three techniques to create our products: hand throwing, slip casting, and jigger molding (think cross between wheel and molding). If the piece is to be molded or jiggered, we create a CAD model of the piece and its mold for which we will have the positive prototyped via CNC. We create all of our molds in-house. Our industrial design background drives our passion for process and determining how a piece will be made. We love the balance of hand and machine so it's important for us to be able to efficiently make a product while maintaining evidence of our handwork. This way each piece is just a little unique but still uniform.
A moment or a piece that you're most proud of with Myrth?
Hands down our dinnerware because the creation of it has been a year and half long labor of love. When we first started making dinnerware it was hand-thrown which produced a wobbly aesthetic with so-so durability. We knew we could do better so we investigated other creation processes, and long story short landed on jiggering (as described above). There was little information out there on this manufacturing process so we pieced together video clips, books, and our own trial and error to create a repeatable, and ultimately successful process. Along the way, we taught ourselves plaster mold making, custom kiln programming, and glaze durability. Now seeing a tall stack of finished plates or working with our wedding registry clients is so satisfying knowing how much hard work was put in to make our dinnerware the best it can be.