Joni Levy Liberman at Covet + Lou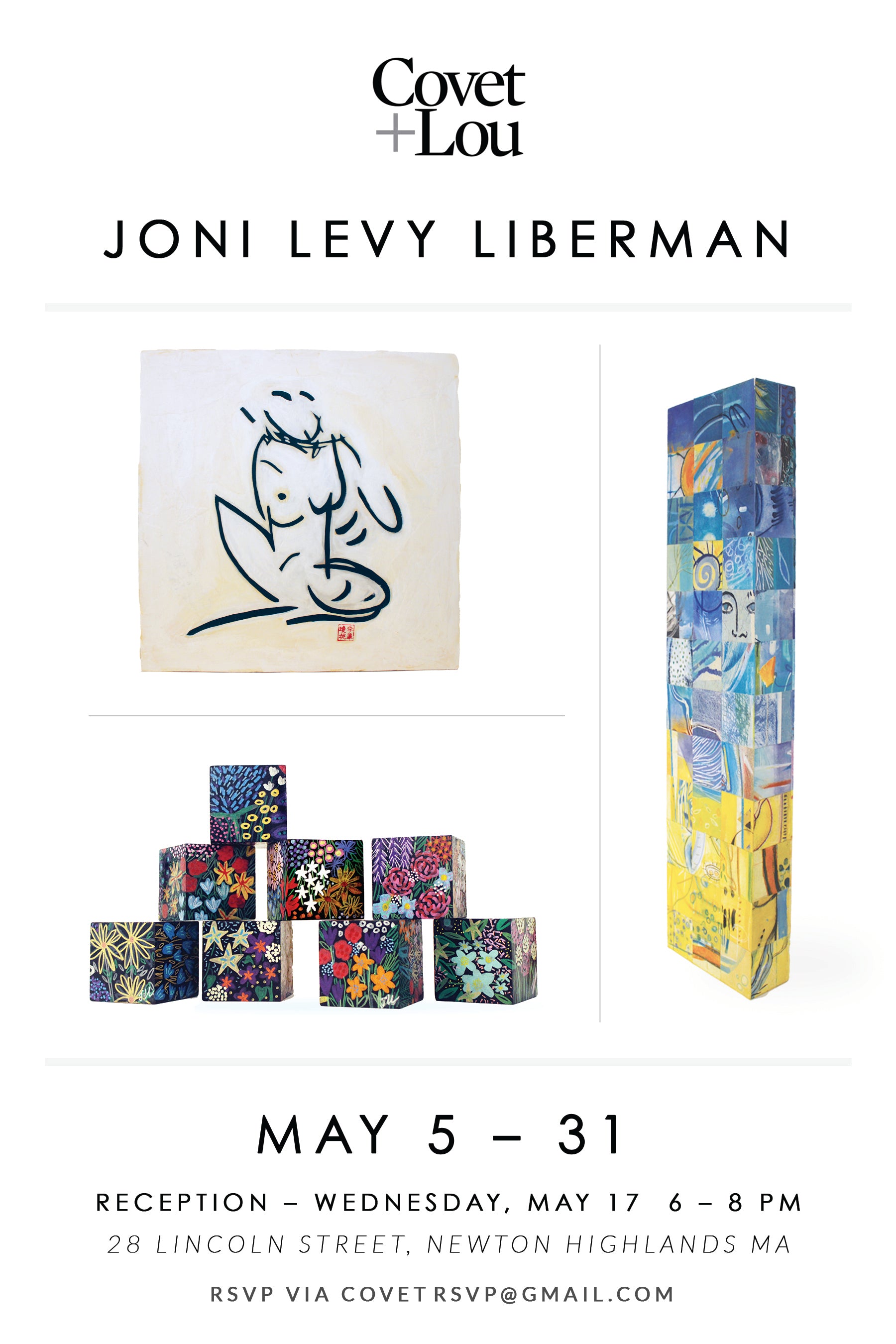 Boston artist Joni Levy Liberman will be popping up at Covet + Lou for the month of May with a curated installation of select works. Joni's work encompasses illustration, collage, and print and has appeared in publications such as The Boston Globe, The Washington Post, Gourmet Magazine, and Cricket (the magazine for children). We are happy to provide a space to showcase Joni's work which celebrates the ordinary beauty in the every day, something we love to do as well. Join us in conversation with Joni below.

Hi, Joni! What's your dream environment for printmaking, drawing, painting, and making messes? Are you surrounded in color? Is there music playing or a certain smell?
I have been making art for as long as I can remember. Over the years, I have been able to create a sacred space for making a mess. My in-home studio is my perpetually evolving playground, haven and laboratory. It offers me all the tools I need. My walls are covered with the art of my friends, colleagues and students. Inspiration surrounds me. I have endless drawers and containers full of paper scraps, bins of colored pencils, markers, paints and more paints, 240 brushes, inks, caran d'arche (water-based crayons), my drawing table, easel, and a standing work table. I have endless print ephemera – including old dictionaries and cookbooks, editions of Shakespeare, and old magazines for inspiration and collage. I have music, podcasts, or old TV shows running in the background, depending on my mood.

How do you get out of your head when you need to focus and get in the zone when it comes to your work?
Honestly, just stepping into my studio provides focus. I have a sketchbook practice where I aim to fill a page a day. I eat and breathe color so just playing with whatever material I haven't used for a while can get me going. I make art everyday – whether working on a print, painting, or collage. I often have several pieces in progress so I can step away from one and move to another if I get stuck. I also have lists of ideas that I keep for just those moments when I need a little push. A little exercise and meditation can help too, but interestingly enough, I often get my best ideas in the shower.
 Image above: Joni Levy Liberman, The Origin of Things.
Tell us about your installation at C+L. How are you setting up the space?
Tina is a visionary. We tried to incorporate my art into the space so folks could imagine the work in a home setting. The space is so beautifully curated already, and it was a joy to integrate my totems, prints and Build-A-Garden blocks. Magical!
Once we started placing the art, we began to see many connections between my work and the fabrics, materials, and colors within Covet+Lou's collection. They are in conversation in really delightful ways.
Do you have any secret (or maybe not so secret) favorite spots in Boston?
I confess to being a crazy Red Sox fan and love Fenway. I adore the Isabella Stewart Gardner Museum and the MFA. I also love live theater and raised my kids going to Wheelock Family Theatre, the Huntington, Lyric Stage, SpeakEasy. I love the work, gardens, and museums supported by the Trustees of Reservations. And libraries! Any and all libraries are among my favorite places – books, people of all ages and backgrounds. I always find joy and inspiration in the library.
If Covet + Lou were a color, what color would we be?
I would have to say green because of the envy I feel upon entering Covet + Lou! I want everything and I want Tina to be my guide. Being a colorist, I specifically choose Titan Green Pale - it is a rich, quiet green that is so calm and mixes well with everything. It's both neutral and saturated at the same time. It's sophisticated and calm.

Can you list off 10 or so things that are inspiring you right now?
Spring
My four year old grandson
A new tiny printing press
Portraits of dogs. Channeling loss into art.
My flower garden
Reading
The number 9
Maps and old letters. Inspiring my Bodies series.
Envelope interiors, specifically the monochromatic printed security patterns appearing inside business envelopes.
Paint chips!
Joni Levy Liberman on view at Covet + Lou May 5-31.
View more from Joni on her website and Instagram.


Reception - Wednesday May 17 - 6 to 8 PM 
28 Lincoln Street, Newton Highlands MA 
RSVP via covetrsvp@gmail.com