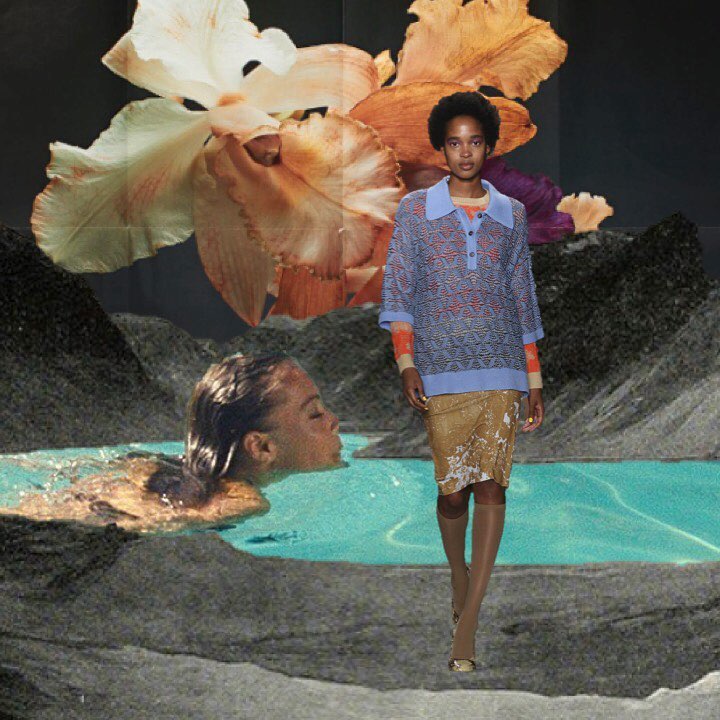 To help with the launch of our newest brand, A Détacher, we are featuring the incredibly talented Edward Kanarecki of Design And Culture By Ed. Based in Poland, Kanarecki assembles multi-layered collages, combining runway looks with complementary images of art, interiors, and design elements in order to express how each collection makes him feel. Regardless of whether a designer is a small, independent house or a mainstream, commercial brand, Kanarecki focuses on collections that give him inspiration. For the Spring 2018 season, his A Détacher creation captures the collections precisely executed eccentricity perfectly. We recently spoke with Kanarecki to get a better understanding of his process and what fashion means to him.
What interests you about the world of fashion? Is it challenging to keep finding inspiration in this ever changing industry?
Fashion is an incredible medium of culture, that isn't just about clothes. It's so much more: a heritage, an entire expression of how our society evolves and changes. That's what I really find most intriguing in it. I would rather say that inspiration is everywhere, since the industry is reaching the height of its current, social media fuelled pace. But this doesn't change the fact that it's about discovering people, who really stand for something.
What inspired you to start making collages for designers? Who was the first major designer you featured in your work and why?
I couldn't find the right way for expressing what I felt about the collections, other than reviews I do for my blog Design And Culture By Ed. Collage is a strong visual form that can be freely played with - it can be spontaneous, intimate, indirect. I thought that this kind of narration well translates my view on a collection, and this is how it all kicked off. As far as I remember, my first collage featured Phoebe Philo's Céline. I love the direction she consistently nurtured at the house, this minimal-goes-eclectic femininity. Honestly, I still can't recover from the fact she's leaving!
What is your process in creating a collage? How long does it take to sort through images and assemble your work?
Sometimes it takes time, sometimes I do a collage in just a few minutes - it depends on the collection and its complexity. In case of sorting of images, it's totally accidental. Really, it's anything that matches my mood. It might be a photo of a grocery store I'm seeing everyday on my way to school; a great vintage find on Tumblr; a scan from an exhibition catalogue. When I look at my file with 'collage materials', it's a huge collection of random elements I hope I will one day use in a collage. Nothing is ever wasted in there...
Several of your collages only showcase a single runway look. How do you decide what to feature?
Some collections have that look. THE look. And if that single runway look makes me feel obsessed, I have to use it! I think there's no other explanation for that.
Do you attend fashion weeks? What has your experience been in seeing the collections in person?
I wish I could attend them more regularly. Seeing some of the shows in-real-life in Milan and Paris was an incredible experience. But it's the feeling of excitement shared by everyone, from front-rowers to the most skeptical of editors, that makes it so special, even ecstatic: imagine the music blasting and the girls walking down the runway! However, my favorite fashion week moments often relate to backstage peeking, where everyone is in a hurry and the photographers go wild while the models act as if nothing's happening. That's a spectacle! Showrooms are a major part of fashion weeks as well - it's the moment when you can really experience the clothes.
You have met amazing figures from the fashion scene! Who is your favorite person you had the chance of meeting or collaborating with?
In the past I had an occasion to meet Marc Jacobs (my parents and I were sitting in the same row with him during an Evita performance we attended while we were on vacation in New York) - that was BIG. Also, I've had a chance to talk to Victoria Beckham during an event in Munich. Collaborating with those two would be a dream come true, as well as with Michele Lamy, Olivier Zahm and Stella Tennant, whom I also had a chance to meet (and take a photo with...). Currently, the place I meet people is Instagram - it has let me take part in creative projects and create some fantastic relationships. There's a number of upcoming projects on the horizon, thanks to Instagram, as well.
What is a staple piece in your closet?
A soft, soft cashmere knit, my vintage Yohji Yamamoto pants and black Chelsea boots. In summer, an extremely floral shirt is a must for me!
Where do you currently live and how does this environment affect your style choices?
I live in Poland, where I was born and raised. Polish fashion, although underrated (unfortunately by Poles), is moving in a very promising direction. Currently, it's all about that 'post-soviet' aesthetic I don't really relate to, but I feel free to dress the way I want to. I don't really follow the current trends here. So, I can't say that I'm somehow inspired by my environment in terms of style choices, but I don't feel limited by it in any way.
What is the one destination that's on your bucket list?
Marrakech! I want to see those magical souks, visit Yves Saint Laurent's mansion / newly-opened museum and buy a pair of local Babouches so badly.