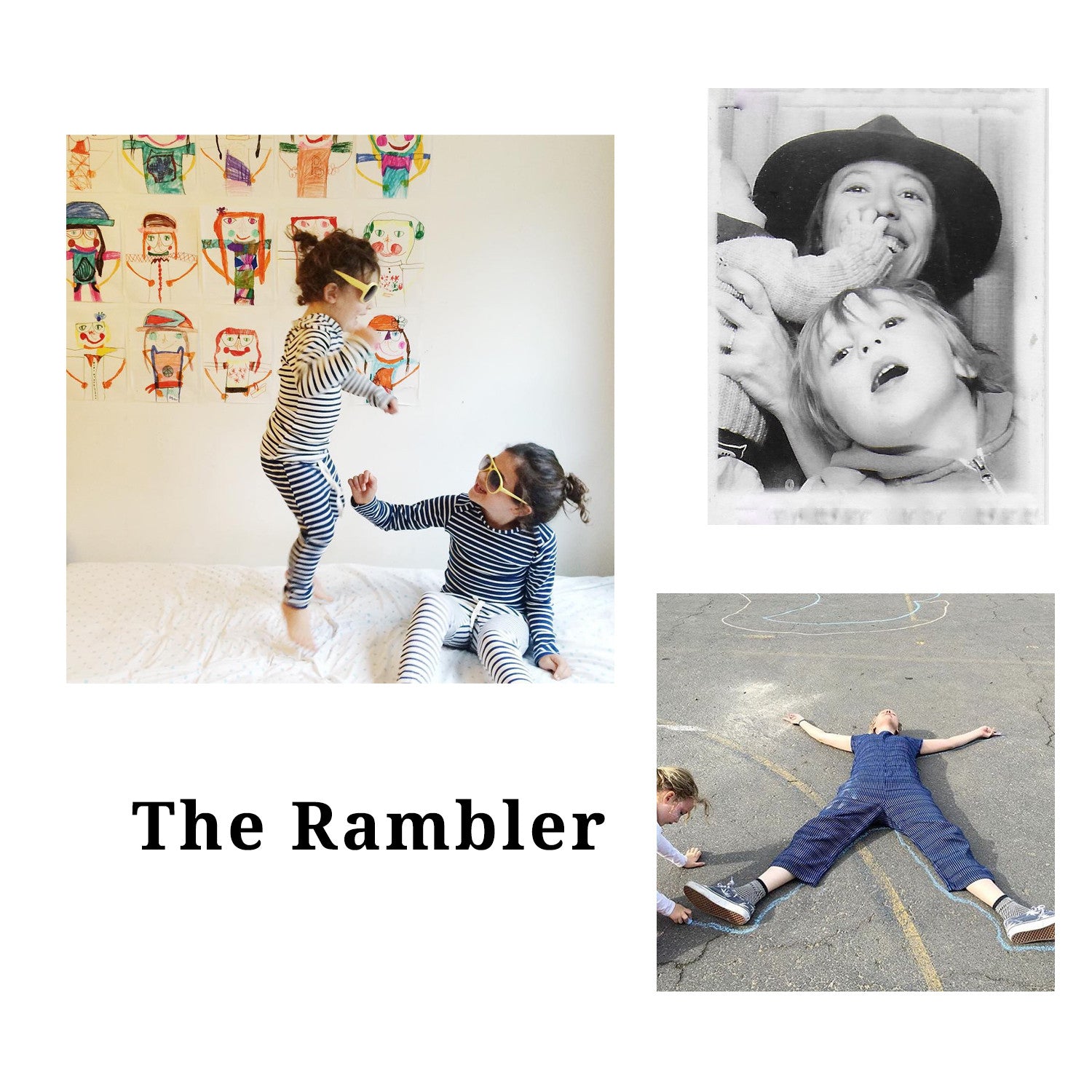 For this week's Rambler, I want to celebrate all things Mom! And while my husband deems this a commercial phenomenon created by the marketing geniuses at Hallmark (I don't entirely disagree), to me Mother's Day is a holiday that reminds us of the importance of our loved ones, no matter how crazy, chaotic and dysfunctional that unit may be.
This year I want to give you a peek into the lives of four hard working mamas (myself included). What have our own mother's taught us? What do we hope to pass on to our children? And how do we seemingly manage it all as small business owners? While we all come from different backgrounds and offer varying perspectives, one thing is clear: family always comes first. Happy Mother's Day to all of you! -Tina
CARY VAUGHN AND JENNA WILSON OF ACE & JIG
WHAT IS ONE OF THE MOST IMPORTANT LESSONS YOU HAVE LEARNED FROM YOUR OWN MOM?
Cary: To approach each day with spirit, determination and enthusiasm. EACH DAY IS A NEW DAY!!
Jenna: The true meaning of equality, social justice and the importance of helping others as much as possible. My mom is a true feminist and hardcore about everything.
WHAT ARE SOME KEYS TO MANAGING MOTHERHOOD AND A SUCCESSFUL CAREER?
C: I try to make the time I spend with my children quality time. The weekends are free for hanging together as a family. I'm a big believer in unscheduled down time as much as possible! They know that I have demanding career but they also know that they mean the world to me above all else. Trying to strike a healthy balance is a challenge and having a support circle is crucial.
J: I do not know! I just try to do my best every day and grab joy whenever possible. It's a total chaotic mess but we are happy and loved and have all that we need.
DESCRIBE YOUR MOM'S PERSONAL STYLE AND HOW IT MAY HAVE INFLUENCED YOU.
C: My mom's style is based around function and practicality. She is very adventurous and active and loves a good outdoor romp. She currently lives on the water in the Maine woods and requires some intense cold weather wardrobe solutions. There is always an outdoor activity with her- daily hikes, snowshoeing, cross country skiing, and in the warmer months canoeing and swimming. Growing up, I think her approach to fashion was an afterthought. She may tell you differently, but in my eyes her focus was about good quality and investment pieces. I think holistically this non-materialistic approach was a real grounding influence for me. However, I may have rebelled a bit : )
J: My mom grew up one of ten on a farm in Saskatchewan. They wore handmade clothing (underpants from flour-sacks) until they fell apart into rags, which were then repurposed once again. This resulted in two things : 1) She is not wasteful and loves both a good rummage at the Goodwill bins and an investment piece she can hang onto. 2) She puts fun and creativity into how she dresses (no more flour-sacks). She's a pattern mixer and takes risks. She's pretty cool with her purple Chuck Taylors with neon green laces. Obviously she's also a big Ace & Jig enthusiast, and undoubtedly was an inspiration for me.
ANNA WALLACK OF MISHA AND PUFF
WHAT IS ONE OF THE MOST IMPORTANT LESSONS YOU HAVE LEARNED FROM YOUR OWN MOM?
My Mom and I are very different. But as I get older I see that so much as a blessing. My mom is very kind and extremely generous. It is so nice to be reminded that kindness counts. In running my business it is easy to be caught up the "business" part of it, and forget about the human side.
My mom really is so giving with her time. We now have a weekly lunch date, and it is so nice to be able to catch up, but also, just to step outside of my work life and get another perspective. She is a retired school teacher. Her life has a different pace than mine. Seeing her regularly is a reminder of what really matters in life, like, no matter what is going on at work, if the kids are happy, you know everything is ok. She really values family and friendship above all.
WHAT ARE SOME KEYS TO MANAGING MOTHERHOOD AND A SUCCESSFUL CAREER?
I think it is about managing expectations. Expectations that you have for yourself, business and of what other people (including your kids) have of you. Having a realistic idea of what can and cannot be done goes a long way. And prioritize. What is more important: being happy and spontaneous with your kids, or having a perfect house. I always choose the former, and my house is usually messy (or as I like to refer to it "active"). And I let a lot of stuff go. Also, I have made a decision to make my work very integrated with my life.   We work at home sometimes and sometimes the kids are at the studio. They see us working. I think that's important. This is our family business. The kids are involved.
DESCRIBE YOUR MOM'S PERSONAL STYLE AND HOW IT MAY HAVE INFLUENCED YOU.
Growing up my mom was the "cool mom"
This was really huge for me. I grew up in a small town that was not very fashionable, but mom was really the best dressed wherever she went. And this wasn't about buying labels. It was really about what she could do with her resources. I think that takes guts to look around and say, I look different than what is going on here, and not only is that ok, but I like that. She read Elle magazine in the 80s, and I have to say, just having fashion magazines around the house was a big deal. It was ok to care about the way you looked, and be artful in your dressing. Because of her, I was really allowed and encouraged to find my own voice in how I wanted to look. My mom is a bit more subdued now, but I think that really influenced me growing up, and helped me to find my personal style and then the look of Misha and Puff with absolute confidence. To look around and say, hey, I have something to say, I have something to add to what is going on here. It is a new idea but I feel really great about it and I think you will like it too.
TINA BURGOS
WHAT IS ONE OF THE MOST IMPORTANT LESSONS YOU HAVE LEARNED FROM YOUR OWN MOM?
My mom, Lou, is an extremely assertive person. She is not afraid to speak her mind, particularly in confrontational situations. I have learned from her that it's important to have a voice and stand up for what I believe. This has served me very well over the years and I hope to instill this virtue into my girls.
WHAT ARE SOME KEYS TO MANAGING MOTHERHOOD AND A SUCCESSFUL CAREER?
My husband and I made the very conscious decision to raise the twins without the assistance of a nanny or full-time sitter so we really have to coordinate our efforts to make our lifestyle work for us. The levels of organization, patience and flexibility I have discovered in myself exceed anything I thought were possible. The balancing act is exacerbated by the fact that I run Covet + Lou from the house. So there is little separation between my personal and professional lives. I try to manage my schedule as efficiently as possible, but when unforeseen circumstances arise, I have to ditch the plan and go with the flow. And when all else fails, large goblets of red wine usually do the trick.
DESCRIBE YOUR MOM'S PERSONAL STYLE AND HOW IT MAY HAVE INFLUENCED YOU.
What I inherited from Lou is a love for good design. She incorporates her aesthetic into everything: clothing, furniture, home entertaining. And she is always impeccably dressed, no matter where she may be. She gravitates toward a more minimal and tailored style with a ladylike touch. I have definitely taken these influences and created my own look that is part tomboy and part utilitarian with a slight feminine edge.