Hello Mr. Hoffman: The Met's Mechanical Madness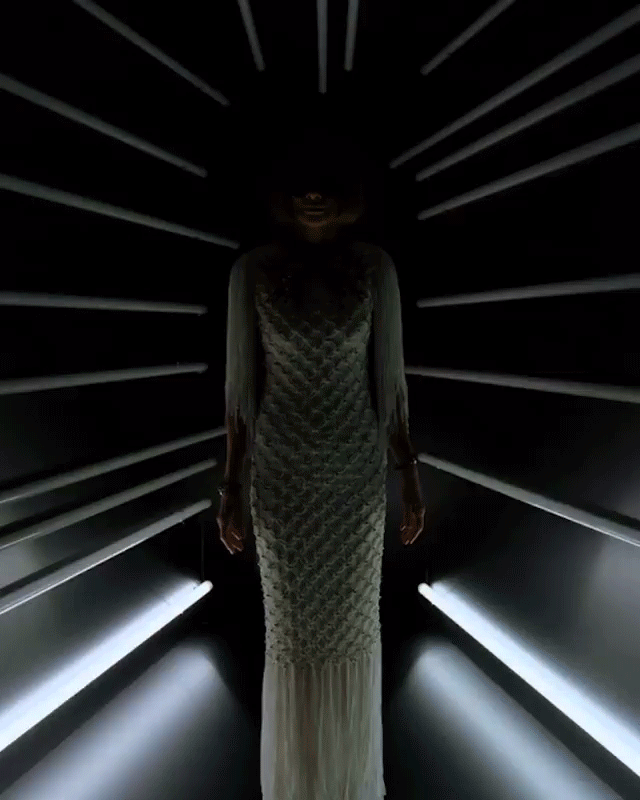 The Met Gala/Ball/Red Carpet Extravaganza is something I look forward to every year, and this past Monday's laughably unimaginable theme, Manus X Machina, was really no exception.  While I maintain that the team of curators, fashion historians, publishing executives, and anyone else involved in producing the mega-event that kicks off the spring costume institute could have dug a little deeper than sartorial interplay between man and machine, this year's roster of bold facers in attendance used even less imagination when planning their lewks.
In my mind the union of technology and fashion can be thought of in two ways: a look into the past's machine and factory system which helped industrialize the production of textiles and garments allowing for exponential growth of ready-to-wear fashion.  And a glance into the future where there are virtually untold ways you could interpret Manus X Machina – from 3-D printing, to nontraditional materials, and wearable tech.  With all of this at the disposal of the celebrities and design teams I can't comprehend why the majority of attendees picked the lowest hanging fruit of reference points – a silver metallic gown!  Get it?!?  Silver looks like metal!  Machines are made of metal!
Certainly not every look was a misfire, so now let's get into the nitty gritty of the best and worst of the evening.  On the whole I was most impressed by the posse of girls wearing garments from Nicholas Ghesiquere's Louis Vuitton.  The looks worn on a gaggle of Vuitton's hyper-chic brand ambassadors (most notably on Alicia Vikander and Selena Gomez) were surprisingly informal for an event like the Met Ball - several of the Vuitton-ettes even paired their frocks with chunky lace up ankle boots.  Ultimately the nonchalant ease of the garments acted as a nice foil to the sea of dresses that looked like they were made of foil.  In this sense, the risk paid off, Ghesquiere is well known for being on the cutting edge of fashion, often using unconventional even industrial materials in his creations.
In addition to Team LV, Ms. Lemonade The Queen B herself (of course) killed it in an embellished latex column dress by Givenchy's Ricardo Tischi.  Bey's look was the perfect example of how to dress on theme without being overly literal, and overly costumed.  The lady just gets it.  Additional shouts to Kendall Jenner barely there Versace, and Lupita's hair – a real wow moment that alluded to canonical Avedon imagery while being firmly rooted in the now.
Now that I've finished all the complements and congratulating I can muster for this week let's move on to some of the less successful looks. The biggest offenders of the night, and basically always, are the members of the 'Balmain Army'. The 'Balmain Army' is the exact inverse of LV posse lauded in the previous paragraph. The 'Balmain Army' is flashy and basic at the same time – the clothes acting as a perfect mirror to the cadet that wears them: C list at best and desperate to be talked about. The 'Balmain Army' girl calls the paparazzi to tell them exactly where she'll be and which angle they should shoot her from. As you can probably tell I have no time for the 'Balmain Army'. Other offenders included the sad, sad, sad pop star triumvirate led by Madonna's confusing head jewels and Prince rip-off exposed bum which was followed closely by Katy Perry in some of the worst Prada I've ever seen. And Lady Gaga looked like she was wearing something she'd worn 8-11 times previously. Lastly and most certainly least there was our dear sweet Sarah Jessica Parker. Looking like a confused member of the Hamilton chorus SJP's clamdigger length pantsuit complete pocket watch and tulle cuffs was such a swing and a miss it couldn't help but put a smile on my face – a perfect metaphor for the entire evening.