Hello Mr. Hoffman: Runway Wrap Up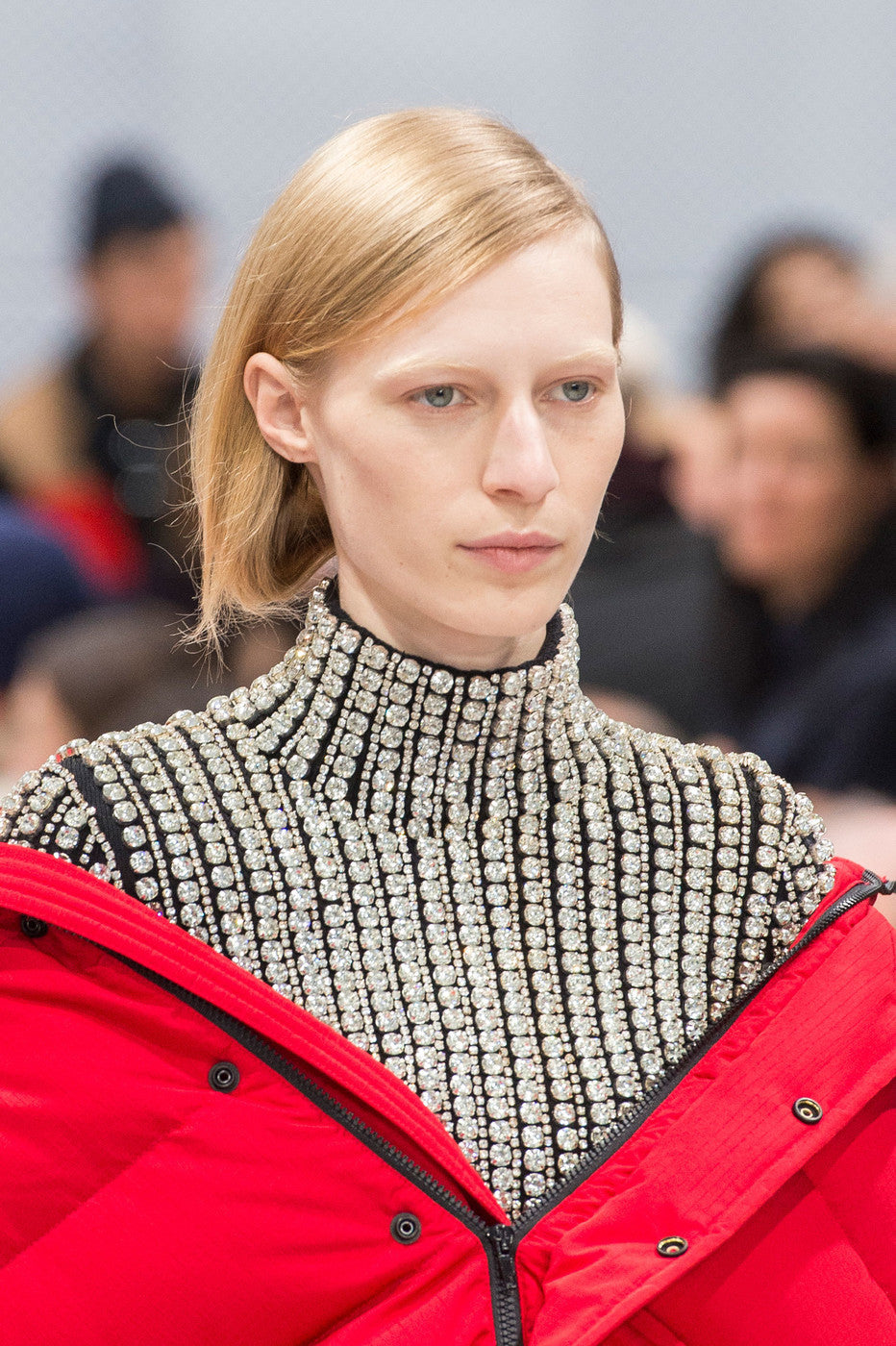 Collection of the Season : BALENCIAGA
This season at Balenciaga the subversion, or 'retranslation', as designer Demna Gvasalia referred to it, began with right out of the gate with the first look of Gvasalia's stunning debut at the storied house. Twenty-first century Balenciaga has been no stranger to contemporary interpretations of founder Christobal Balenciaga's sartorial codes, most notably with the career making collections created by Nicholas Ghesiquere and after that Alexander Wang's more turbulent three-year tenure.
A first glance, the opening offering of Gvasalia's Balenciaga was a fairly sedate affair: a tweed skirt suit - which is a far cry from the swoon-worthy hoodies and avant-garde streetwear that have quickly become the staples of Gvasalia's other line, Vetements. But if you spend a bit more time examining the look the off-kilter details being to come into clearer focus: from the strangely padded hips, to the glasses – square, frameless, and fully to catch a predator – upon inspection, the look opens up (as all good fashion should) to reveal that this indeed is a whole new Balenciaga.
As the show progressed it become clear that Balenciaga's new translation was a quietly rebellious one – the weirdness was there but it certainly didn't overpower the clothes. Ski jackets that were precariously unzipped and shimmied off the models angular shoulders to reveal glimpses of lurex knitwear and other evening looks were the collection's highlight – elevating the shameful legacy of the Northface jacket to the highest echelons of boundary pushing contemporary fashion. Jackets unbuttoned and shrugged off shoulders was a signature silhouette of the collection along with oversized menswear inspired shirts only half tucked in, all worn with serious don't-fuck-with-me books. The multi-colored dresses made from strips of haphazardly matched materials paired with bonkers candy cane patterned tights managed to make sense which seemed to beg the question, can this man make anything cool?
The closing looks, usually a time for a designer to be at his most unrestrained and daring, were yet another chance for Gvasalia to subvert an established code of fashion. Instead of pushing the envelope further he rained things in, showing a fabulous and fabulously wearable leather trench with a fur collar. Paired with a pair of perfectly worn jeans, the designer proving he can sit comfortably on both sides of the wearable verses editorial fashion dichotomy.
Model of the Season: JULIA NOBIS
Julia Nobis. Dear sweet Julia Nobis. Weather she's serving downtown cool girl with her curated tattoos on full display at Proenza Schouler or a zany disco queen at Gucci, Julia Nobis not only embodies the spirit of each collection but she compels even the most casual viewer to take a second look. I don't know anything about Julia: we've never met, I've never done any research on where she comes from or know anything about her story, but every few months when there is a new batch of collections to parse through I never fail to be struck by each image of her (when I should really be focusing on the clothes).
Strutting down the runway with her signature knowing smile and face right out of a Dutch master painting Nobis exudes a cool factor that far surpasses her contemporaries. She never fully disappears into the clothes and in an industry overrun with alien-esque eighteen year bobble heads Nobis is not only always recognizable but seems to stand out. That thing when people stick the word 'it' in front of 'girl' and expect it to mean something? Julia Nobis has it.