The Rambler: A Look Into My Dream Home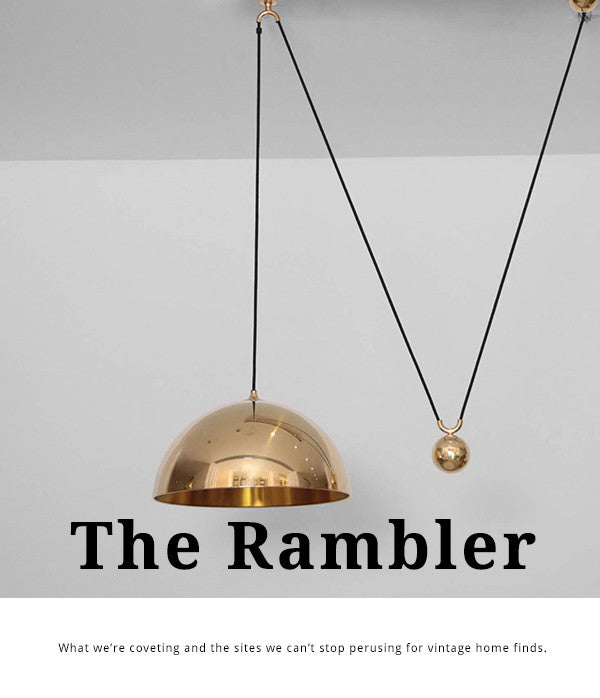 Growing up, I was ensconced in the mid century modern period.  The midwest is a mecca of this genre, which developed its roots in the 1930's in Ann Arbor, Michigan.  Wisconsin was also influential during this time particularly because Frank Lloyd Wright, a badger state native, lived and worked here.  My parents embraced this design era and filled our home with the likes of Eames, Corbusier, and Herman Miller.  They passed down to me their passion for clean lines, minimalist silhouettes, and toned down hues. Comfortable? Not exactly.  Aesthetically pleasing to the eye? Absolutely.
Now that I have my own humble piece of real estate (a New England Colonial built in 1924), I am constantly on the hunt for treasured pieces.  I've been fortunate enough to inherit a few things as Mom and Dad downsize.  But like so many of you, I have aspirational ideas of the dream home - the home you obsess about from the pages of The World of Interiors or UK Elle Decor.  So I regularly scour the internet to get inspiration and drool.  Here are my top picks for the week:
These curvacious beauties would do wonders for my enclosed front porch.
Let cocktail hour commence! 




I love the balance of elegance and industrialism in this piece.

 

The quintessential example of form and function.

 

 

 

A little accessory for the aforementioned bar cart... 

 

 

What an extremely indulgent place this would be to enjoy my morning oatmeal. 

Absolutely stunning.

 

 
TINA