Hello Mr. Hoffman: Armory Show Wrap Up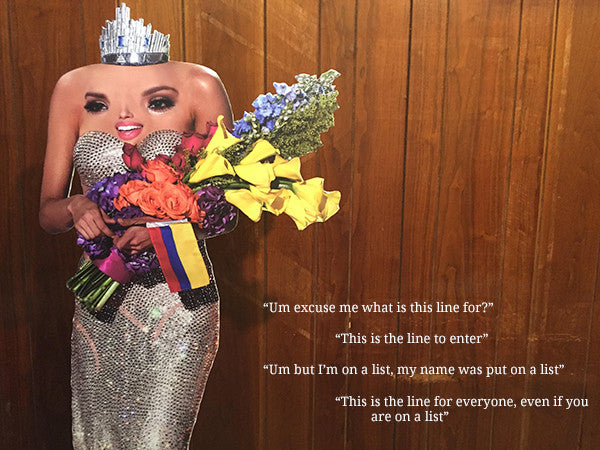 Ladies and Gentleman welcome to Armory Arts week. Every year as February fades into a chilly memory and the fashion calendar enters its fourth and most punishing nine day week in Paris, New York is besieged by an onslaught of art fairs that are sloppily grouped into the aforementioned umbrella term. While the constant stream of VIP previews and after parties can be exhausting (and decidedly not at all about the art on display), Armory week does provide an interesting cultural cross section of the art engaged public: from the lazy billionaires flying in to to outfit their newly acquired ski chalet in one fell swoop, to the art student from Brooklyn there with a school group to survey 'what's hot in contemporary art'. Herein is an examination of the art I saw, both good and bad, and some of the characters I saw in the crowds.
First up was SPING/BREAK Art Show, a curator driven fair that in the past has focused on showcasing emerging artists whose work sells at a price point much lower than what one would find at any other fair. The fair is held in a stately abandoned post office across from Penn Station that gives me high school panic flashbacks every time I step foot in its halls. Each small gallery is under the control of an independent curator, which differs greatly from the more traditional art fair model. In theory it's a wonderful idea to hand the reins of contemporary arts to younger independent minds, but ultimately this freedom produces wildly uneven results. This year it felt like everyone was sharing notes and not in a cohesive or compelling way. In room after room the same themes kept being explored in a shockingly similar way. They oscillated between: installations that offered glimpses into an affected and privileged teenage girl's bedroom, 1970s-esque photography of urban life, and art fair clickbait pieces – work that feels like its main purpose is to attract Instagram attention and rack up those likes.
The next day I put on my fanciest pants and hopped on the subway to the Upper East Side to attend the opening day of what is obliquely called 'The Art Show" put on by what I can only assume is a shadowy crime syndicate called The Art Dealers of America. This show was so unbelievably boring there's almost nothing to say. The exceptions (there are always exceptions) being the Bortolami booth which featured the impossibly crazy/sexy/cool photo collages of seasoned pro Barbara Kasten and a single Jim Shaw that added a surrealist, even comic, riff on my all time favorite painting of a 19th century French prostitute - Madame X.
But somehow this stodgy tedium, supported by the backdrop of the imposing Park Avenue Armory was comforting; the art world has pulled off something the Republican party has failed spectacularly at over the last few months: there still is (and always will be) a respect for and deference paid to the Art Establishment – however unsexy it may be – and the ADAA fair is that reality in action.
Now, finally, we have come to the main event. The following day with my eyes barely open I rolled out of bed and headed to far West Midtown, still dressed in my pajamas, for the signature monstrosity that the week is named for– The Armory Show. Armory is spread across Piers 92 and 94 with the contemporary booths taking up the lion's share of prime real estate. This year special attention was paid to African exhibitors through the Armory's 'focus' program, imaginatively titled African Perspectives. This section turned out to be a thrilling addition to the fair - showcasing dynamic and at times thrilling work that, unfortunately, all too often would not be shown at a fair like Armory.
In addition to the African Perspectives I was stunned by several other pieces on view including a light box photo by Alfredo Jaar and a stunning collage-like study for a self-portrait by an artist named Paul Mpagi Sepuya. After racking up nearly five miles on my iPhone pedometer I saddled up to the Pommery champagne bar where I contemplated rewarding my strenuous week of arts related walking and looking with a twenty-five dollar plastic flute of bubbles when suddenly an old professor, a Real Housewife of New York, and an ex breezed by me in rapid succession."Everyone really does come to these things," I thought to myself with a terrified smile before locating the nearest exit and dashing out the door.