The Rambler: Hello Mr. Hoffman...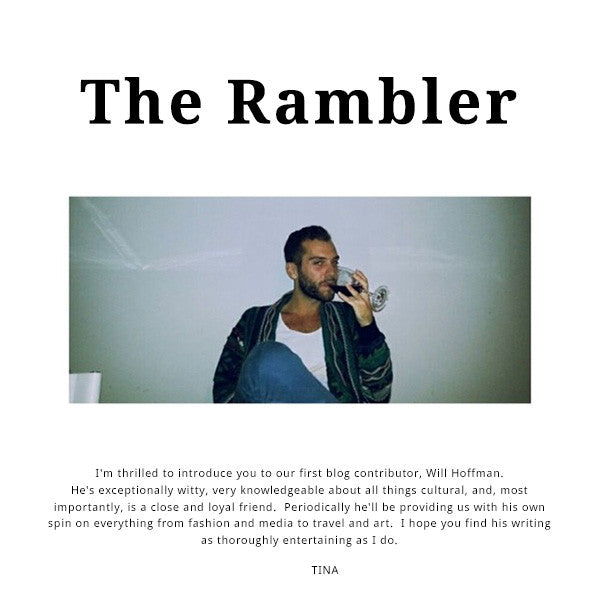 HOW ME AND T CAME TO BE
One day in the spring of 2007, as a kid desperately interested in fashion, culture, and anything outside the narrow worldview of my Boston suburb, I (with my exceedingly patient father in tow) bounded down the steps of a subterranean shop hidden amongst the bong vendors and sex shops that litter the final and fabulously fringe-y block of Back Bay's shopping mecca – Newbury Street. I remember that in that moment I was just excited to find something new and possibly even right there in my own Puritanical micro-metropolis. There was no way of knowing in that single descent down the stairs, along with the unremarkable pair of khaki's I just HAD TO HAVE would end up altering the trajectory of my final years in high school, college, and even the post-grad-currently-adrift-part-time-blogger period I find myself in now.
Ok back to 2007…
While I was in the dressing room no doubt posing in those damn khakis, my aforementioned exceedingly patient father asked the friendly lady working if she needed a summer intern.  Any guesses as to what happened next? If she had said no there would be an extremely small chance that I would be here at this moment contributing to that nice lady's blog on a newly-commissioned-semi-regular basis (Hi guys, I'm Will).  So going forward I will infer that you, dear readers, have inferred that, yes, I got the internship, which led to a job, which led to another job, which lead to a friendship, which lead to trips to New York, which lead to dinners on the porch, which lead to two little seven year old girls calling me (forced to call me?) Uncle Will.
So yep, here we are.  It's nice to meet you.  I'll do my best not to bore you, and while I don't have any insider info on the next Ace and Jig collection, I will offer little glimpses into my world, Tina's world, and the lovely little things that we encounter along the way that we can't not share.
THINGS TINA TAUGHT ME
(and other things that start with T)
By way of an introduction I wanted to share with everyone some lessons that Tina's imparted over the years. Whether these gems were shared explicitly or implicitly they have become maxims that I find myself repeating over and over to others, regardless of if they've asked for advice or not.
Here goes…
Embrace The Pills
Life is messy, shit gets busted up. That perfect cashmere sweater that you've been saving up for is going to stretch and it's going to pill, because that's just the nature of things.  Instead of manically obsessing about keeping your sweater pristine and box fresh, you need to wear it and love it and eventually when it does start to pill, embrace it. Ultimately something too flawless is rendered utterly boring, so adjust that attitude, rip the tags off and accept the damn pills. So Thanks T – a long time ago you taught me a very important lesson using a metaphor that I can definitely wrap my head around: knitwear.
What's the Worst that Can Happen?
I like this one for a few reasons.  Firstly on a recent trip when I was in the middle of a stress spiral T laid this gem down real hard and it really pulled me out of the shit. Secondly, our dear T is a bit of a worrier herself so later in the very same trip I had the pleasure of returning the favor and I'm pretty sure it had a similar, calming, rainbow wave-y effect.  See that? This one's effective because it works both ways.
Fuck The Rules
No white after Labor Day? Don't mix black and navy? No sneakers at dinner? Yeah right, no thanks. Dress in a way that makes you feel good – good in a badass stomp down the street kind of way. I've watched T kill it at meetings, parties, and openings in Hanes wife beaters, vans, and a supremely covetable (wink) Supreme backpack.  I've definitely followed her example and can only hope that I look as cool as she does when I roll up to the ballet in my shearling coat, (on which my handsome gentleman companion has commented makes me resemble the cartoon monster Muzzy), silk pajama pants, and scuffed up Air Force Ones.
CURRENTLY COVETING
WATCH    The Great Beauty   
A recent run of the mill date night was elevated to near epic proportion when the handsome gentleman suggested we watch this sprawling Italian opus about the travails of a playboy writer as he traipses through Rome's most exclusive parties, performances, and palazzos.  The film's opening scene centers on said playboy's beyond decadent sixty-fifth birthday party – the next morning (or more likely mid-afternoon) he begins to take stock of a beautiful life and wonder what it all has amounted to. Watch for the stunning cinematography and epic fetes, stay for the heartbreak.  I bet Sophia Copppola wakes up everyday wishing she made this movie.
LISTEN    Erykah Badu But You Can't Use My Phone
Ms. Badu's general badass-ery continues with a Mixtape that riffs on themes of contemporary communication as well as one of the biggest hits of the past year (Drake's Hotline Bling, grandma).  Delightfully weird, funny, and sexy (she purrs I can make you put your phone down) ultimately the ten tracks jive perfectly to become an of the moment exploration of something we all can relate to, maybe a little too well. Listen for the opening banger Cel U Lar Device and stick around for the freaky fembot grooves of deep cut Dial'Afreaq.
READ    Joan Didion Slouching Toward Bethlehem
Ok. I get that I'm fairly late to the party on this one.  But as someone who feels medium confident about considering myself medium well read, I always felt medium self-conscious about never investigating the works of America's post-war ice-in-the-veins literary heroine.  When I finally mustered the strength to walk around the corner to my impossibly charming independent bookstore (more on that later) I was not disappointed.  Ms. Didion's collection of essays on topics ranging from the sunset of John Wayne's illustrious movie career as habitual good guy of the wild west, Joan Baez's delightfully hippy, happy, and hazy institute for nonviolence, and finally the charming tale of a restless California housewife setting her husband on fire - are truly too cool for school.  I'm sure literally all of you have read it but if not I'm more than medium confident your impossibly charming local bookstore has a copy with your name on it.
STUFF    Vintage Pistol Tray
The latest addition to my new apartment that I moved into at the end of last year (the general design goal for the pad can be best described as seventies rec-room) was a funkadelic brass and glass bar cart designed by Milo Baughman.  While I'm thrilled with the new addition now I'm faced with the task of styling it out with functional bar accessories so that I can actually use the damn thing.  I've always been a fan of adding a dash of menace to my interiors (skulls, tarot cards, a pair antique doll eyes, you get the picture) and the bar cart is no exception.  So friends this week I'm currently coveting a certain vintage pistol tray that I hope will say to guests: Welcome! Sit down! Relax! Have a cocktail! But not too many because underneath these delightful homemade truffle and caviar canapés (everything is perfect, homemade, and without budget constraints in my imagination. Let me have this) there may or may not be a firearm waiting to escort you out after you've over imbibed and accidentally crushed one of my prized antique doll eyes.