The Rambler: 48 Hours in Burlington, Vermont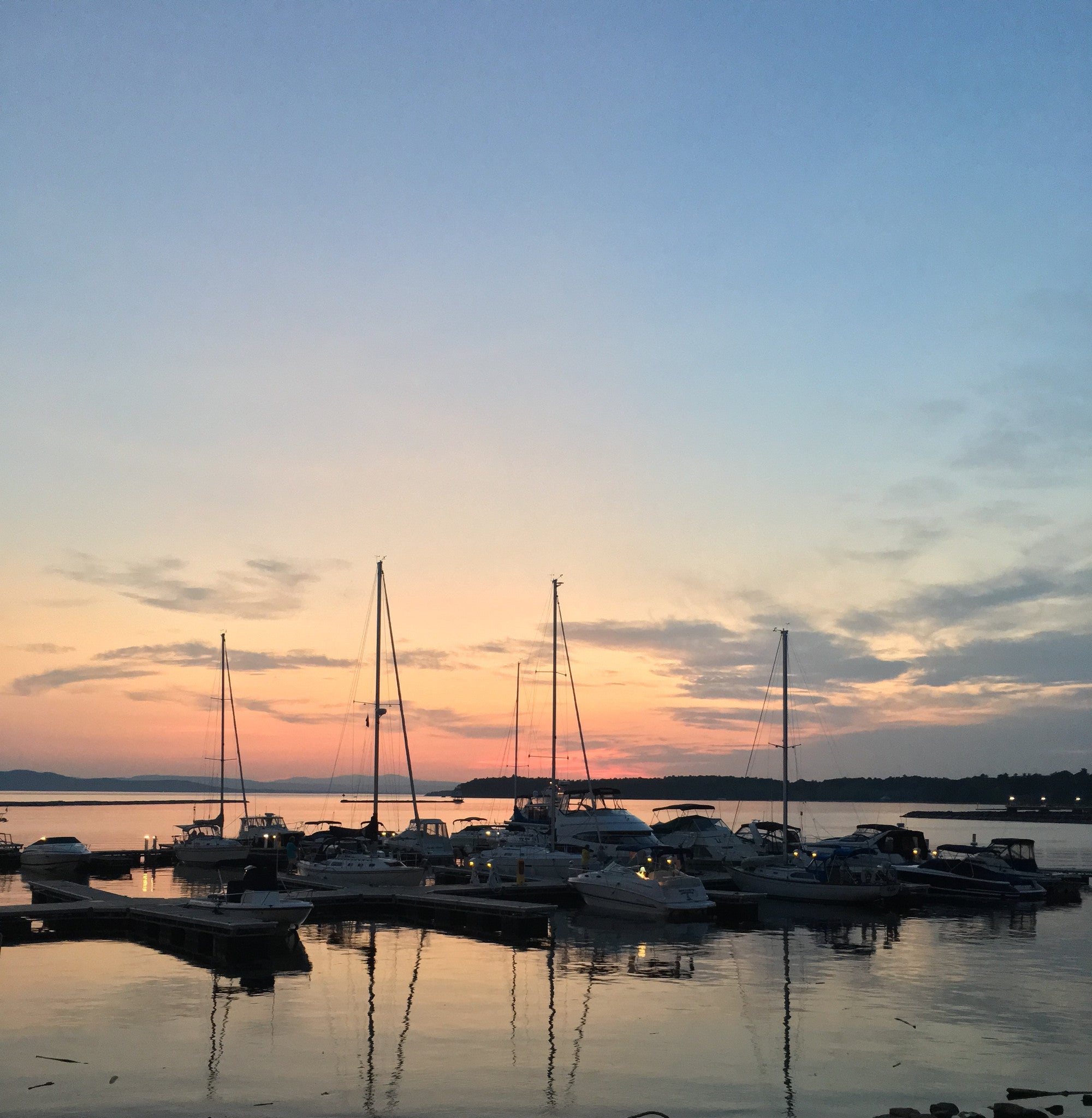 Spontaneously, Dave, the girls and I decided to inaugurate summer with a quick trip to Burlington, Vermont.  It was the perfect New England jaunt to satisfy our wanderlust.  So on Memorial Day weekend, we threw ourselves and our carelessly packed bags into the car and took off.  We were fortunate to score one of the last remaining hotel rooms as every year the Burlington Marathon is held on this holiday weekend.  Here are some of the highlights of the trip:
We arrived around lunchtime so our first stop was
Lucky Next Door
.  This is a no-nonsense Mexican joint, known for its selection of hot pressed tacos.  The nachos and burritos were also a hit with our crowd.  But the most exciting part of the meal for Dave was the opportunity to order the elusive
Heady Topper
.  Brewed in Waterbury, Vermont this Double IPA is considered, by many beer enthusiasts, the best beer in America.
After lunch visited the flagship of
Ben & Jerry's
on Church Street.  The infamous ice cream maker was started in 1978 by Ben Cohen and Jerry Greenfield in a gas station in Burlington.  Over 3 decades later, the business, and its founders, are iconic and world renowned.
We then headed to our hotel so the kids could burn off some energy in the indoor pool.  It was a quick respite as we wanted to head to
The Farmhouse Tap and Grill
 for dinner.  This restaurant operates on a first come/first serve basis.  And with an average wait time of 2 hours for a table (even longer this particular weekend due to the marathon crowds), we needed to plan strategically.  Aside from the amazing farm-to-table food that is served here, the big draw is the unbelievable craft beer selection.  Many of the brews, either on tap or canned and bottled, are only available in small batches and in limited quantity.  Added bonus: the restaurant is very kid friendly and the chocolate stout cake is to die for!
To pass the time waiting for our table, we wandered Church Street.  This is a walking promenade that features restaurants, cafes, and shops.  We ended up spending the majority of our time in
Crow Bookshop
.  While this independent bookseller does have a selection of new material, the strength is in its offering of used books.
The next morning before our departure, we stopped in one of my favorite antique markets in Vermont.  
Barge Canal Market
is located off the beaten path near the shores of Lake Champlain.  This shop specializes in mid-century modern furnishings and homewares, which is rare for New England antique vendors.  I walked away with several treasures which I'll be sharing with you soon!