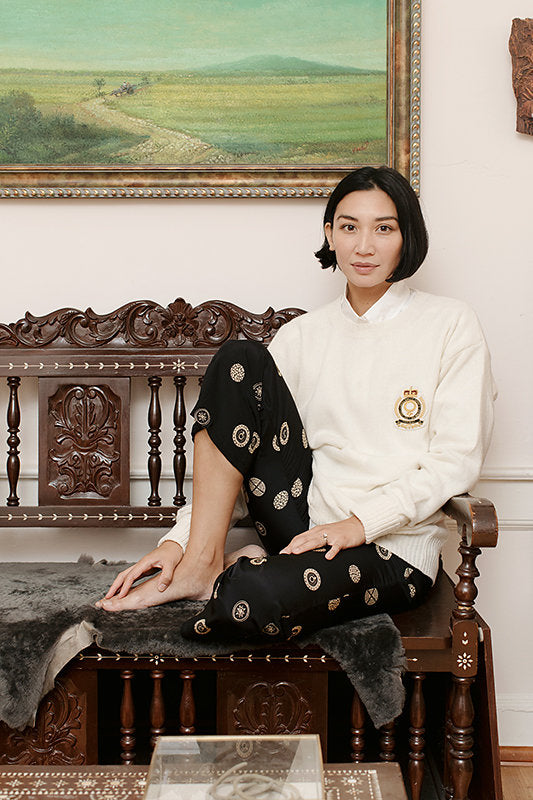 Photograph by Heather Moore.
SUZANNE RAE: Inspired by and made for the progressive woman, Suzanne Rae keeps social awareness and sustainability in mind for her brand. Rae describes her personal style as "quirky classic meets grandma chic" and we're here for it.
How would you describe your personal style?
Quirky classic meets granny chic.
Who is your style icon?
Gloria Vanderbilt
If you had to choose one staple item from your closet, what would it be?
Feminist Crest cropped flare leg pants.
When starting your career in the fashion industry, what was the best piece of advice you received?
Stay true to yourself and what you know.
With the fashion industry being one of the biggest polluters, how do you think companies and brands can reduce their carbon footprint?
There are so many things here——from fabrics to plastic...but i think if we started buying less and buying better (from materials to final product), there would already be a significant decrease in polluters.
What does the future look like for Suzanne Rae?
I'd like to continue to build upon our sustainability efforts, and also introduce handbags.
How do you manage your career while being a mother to young children?
I think being a mother has taught me how to better manage my priorities as well as find balance. Now that it's not only myself that I have to care for, I've learned how to work more productively and efficiently - both at work and at home.
After a long day, what is your favorite way to wind down?
A glass of wine. I know it sounds cliché, but it is certainly the case for me.