The 8 Ball: Nathalie Schreckenberg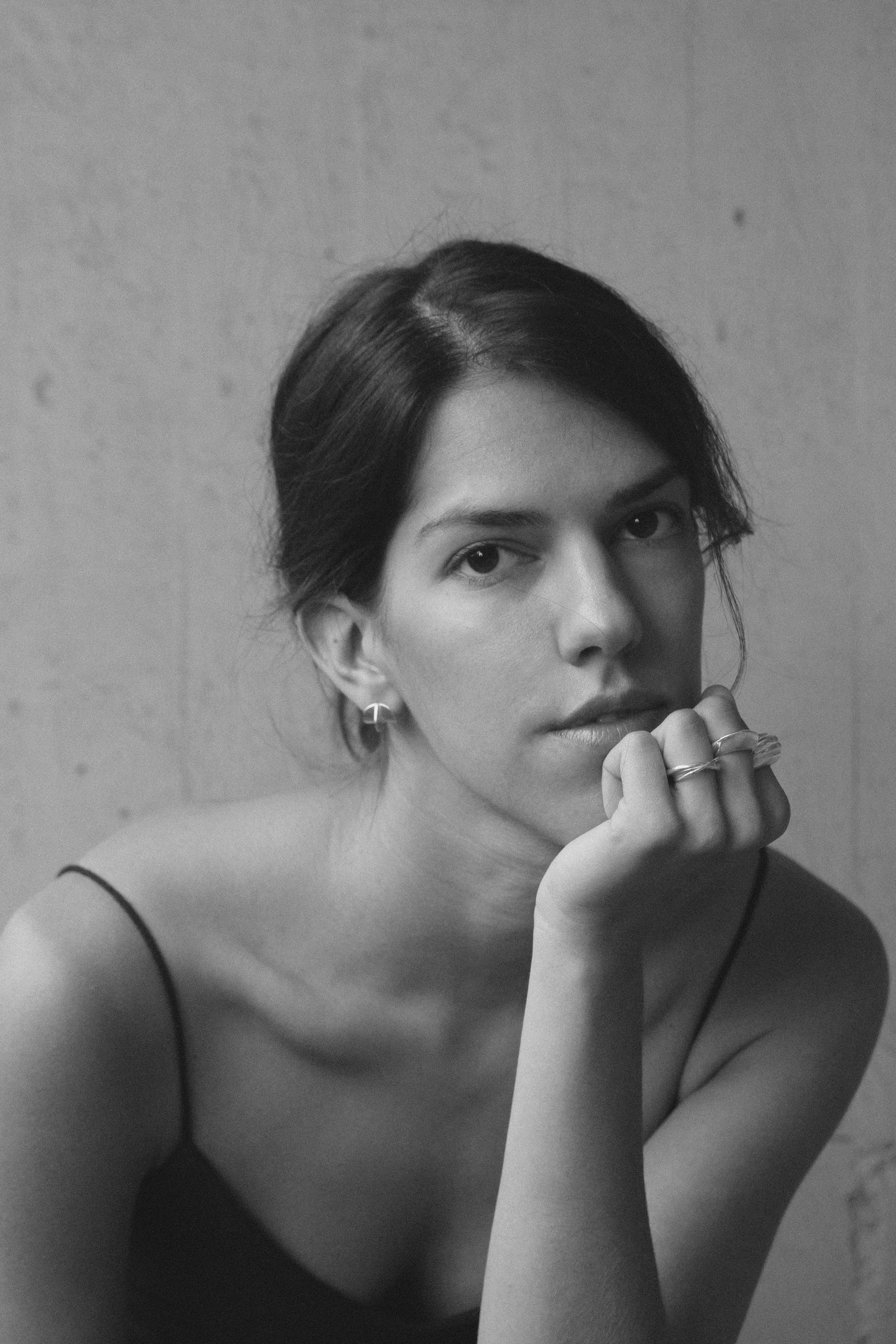 Elemental and timeless. Smooth and sculptural. Always sculpted by hand. Words to describe Nathalie Schreckenberg's namesake line of jewelry and homeware. We are pleased to welcome new additions for SS23. Enjoy this talk with Nathalie! 
Hi Nathalie! Tell us about yourself and how you started your namesake line of timeless jewelry pieces and glass objects.
I'm a German-Brazilian jewelry designer currently living in Spain where I studied Fine Arts and specialized in sculpture and jewelry design. I started the line in 2017 after moving back to Barcelona after working as a curator in a Museum in my hometown São Paulo for a few years. I had been doing jewelry on the side for a long time but it came to a point when I really wanted to focus on making that my main activity. So, I started developing the brand which launched late 2017 and after a few years of creating mostly sterling silver pieces I expanded to homeware objects in 2020.
You note natural shapes, simplicity, and the beauty of imperfection as influences in your work. Can you expand on this for us?
Since the beginning of creating the line I wanted to craft pieces that where very easy to wear on a daily basis, with smooth and sculptural shapes that accompany the body lines beautifully. That's why nature's forms have always been a massive source of inspiration when designing the collections. And I like to revere this idea of imperfection in the sense that when crafting the pieces in the lost wax technique, I always sculpt them by hand, never use 3D or other technologies because I do believe that these irregularities or asymmetries give the piece a special soul somehow.
We love the idea of your pieces acting as ancient amulets for the wearer. How we choose to adorn ourselves is pretty special if you think about it. Who do you see wearing your pieces and what do you hope they evoke for the wearer?

The wearer is who will give the final character to any jewelry piece. This can be symbolically as a token of a special date or memory as well as with personal style. What I do hope to achieve when designing are to create pieces that can be elevated for special occasions but also worn in more effortless everyday wear. Yet most importantly they are thought and crafted carefully to endure the passing of fleeting trends and accompany the wearer throughout the years. I see people who appreciate timeless designs wearing our pieces.
Image left: Toggle Bracelet. NSJ SS23 by Adrian Catalán.
Is there a time period for jewelry making or design that you gravitate towards? Or perhaps certain artists that provide constant inspiration?
As a designer I enjoy many different styles and periods of jewelry making and I certainly draw inspiration from other crafts too. For example I really love the woodwork pieces from Alexandre Noll, and his granddaughter Catherine Noll was an exquisite jewelry designer whose work had many similarities to his work but applied to wearable pieces. But if I had to point out a particularly exciting source of creative inspiration it would be in mid-century modernist jewelry.
Image above: Alexandre Noll Cigarette Box, 1950
Tell us about the SS23 collection. We are excited to have pieces like the Toggle Bracelet and SA Necklace at the shop. They are so beautiful and timeless.
The new collection has a very summery vibe, adding new materials like leather cords and shells to my favorite material to work with which is sterling silver. The shapes of the Fava earrings imitate the one of the bean and make a beautiful statement piece. For this collection we wanted to create larger more complex pieces to combine with our more minimal designs from the permanent collection.
A favorite part about your job?
Making things with my hands is the most satisfying part of my job.
There is much organizational and office work involved when owning a small business, but the times when I can just sit in my jewelry bench and experiment with new designs are the best!
Something you are looking forward to
I'm currently working on new Homeware pieces and experimenting with ceramics which I hope to introduce to our line together with more glass objects. I'm really excited about the development process of these and can't wait to share this collection later this year!