The 8 Ball: Milena Silvano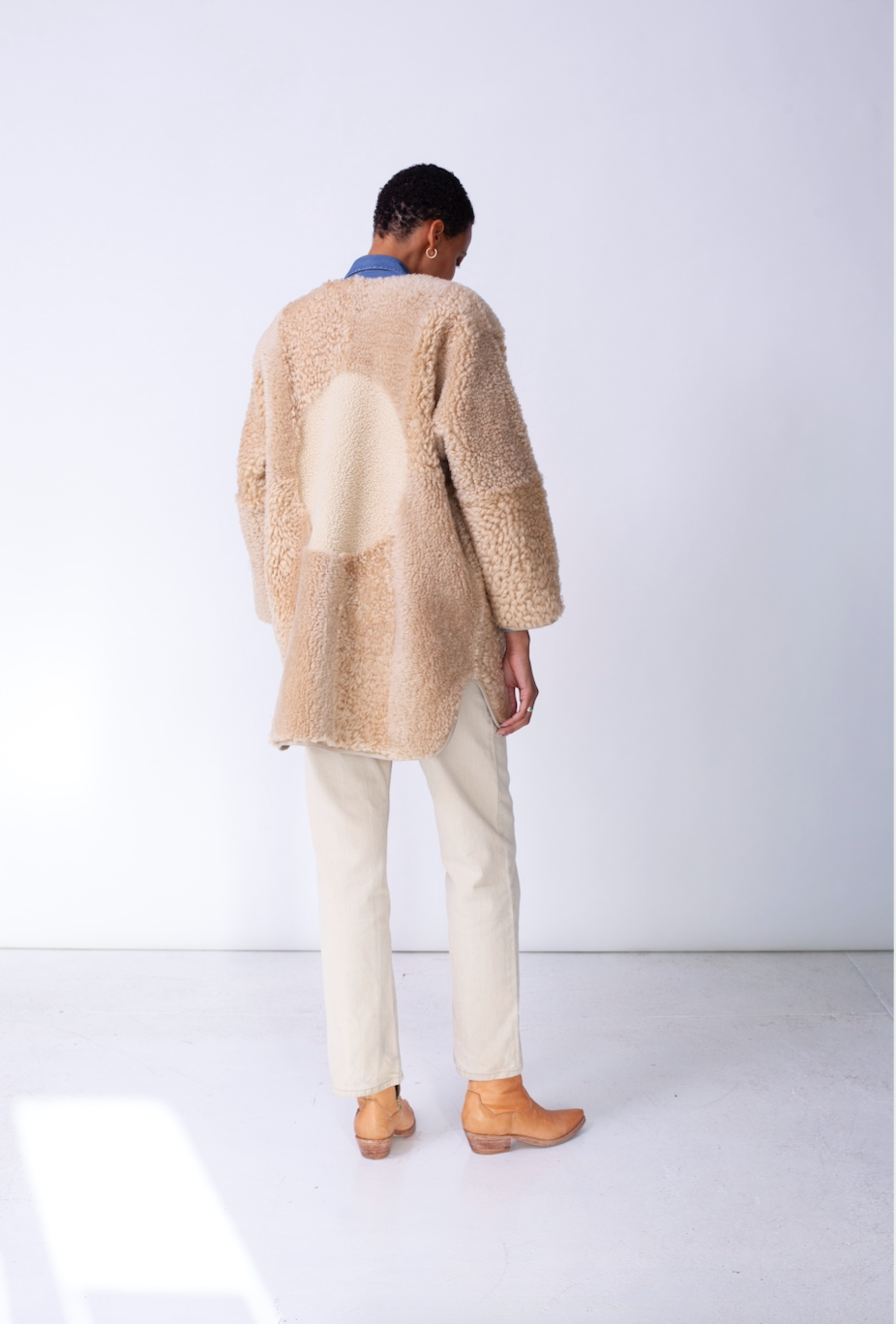 "The universe had a plan and here I am." Milena behind her eponymous line, Milena Silvano, tells us about 90's Italian trouser suits, what's bringing her joy lately (hint; it has four legs), and about the opportunity & desire to tread lightly within her own operations. Read on for the full feature.
Tell us about your eponymous line Milena Silvano. How did you get started?
Around 2011 I moved out of the city on a 'spiritual quest' and landed in a small village in the Sussex countryside. Between doing styling jobs and volunteering at the local biodynamic farm, I was making garments with hand woven ahimsa silk that I would dye by-hand with plants and sell via my blog to mysterious women.
It was a thrifty time, and amongst other pieces, I decided to rework an ill-fitting sheepskin coat that was had been gifted to me. In the process of cutting and re-sewing this piece by hand, removing all hardware and stripping it off of excess detailing, I realised how much I enjoyed working with the material. The universe had a plan and here I am.
And how do you feel now about where you've landed?
I feel good that people are receiving my offerings and that my customers understand that my works comes from a place of authenticity.
We've seen you describe your clothing as heirloom pieces designed to be passed down through generations. We completely admire and agree with this sentiment. Besides pieces from your own line, do you have other heirloom pieces you see yourself eventually passing down? What are they?
Probably my mother's hand me downs. I have a wardrobe full of Italian trouser suits from the 90's made out of the most interesting and unexpected materials. The quality of those pieces in unprecedented.
What or who is bringing you joy lately?
My dog, dog videos, new dogs I meet on my walks.
What has been the most surprising part of starting your own business?
I am constantly surprised by the incredible amount of admin that is involved in running this business.
How does slow fashion and honoring principles of agriculture / zero waste fit into other areas of your life? In your daily rituals, on your dinner table, at home, etc.
I am a keen composter! Even now that I live in the city I make sure to have space for composting in the garden. Gathering scraps and repurposing. Just like I do with my own production waste.
How do you love wearing your Milena Silvano pieces?
I keep wearing the Diamond Robe layered on a hoodie. UK weather is pretty predictable in winter, lots of drizzling rain which the sheepskin can handle, but my curly hair not so much.
What does ethical design and sustainability means to you when it comes to
Milena Silvano?
I think about this a lot, and when I started focussing on making my work as sustainable as possible, 10-ish years ago, the expression of this thinking was in the sourcing: everything organic, locally made and plant dyed. 
Nowadays I feel it is important to tread lightly, by keeping my operation as small as possible while ensuring it is financially sustainable.
In other words, I choose carefully how often I offer work to the world, how many pieces I produce, and how much (or little) waste I create.
Shop Milena Silvano at Covet + Lou. Follow Milena on Instagram.