The 8 Ball: Harriet Wallace-Jones and Emma Sewell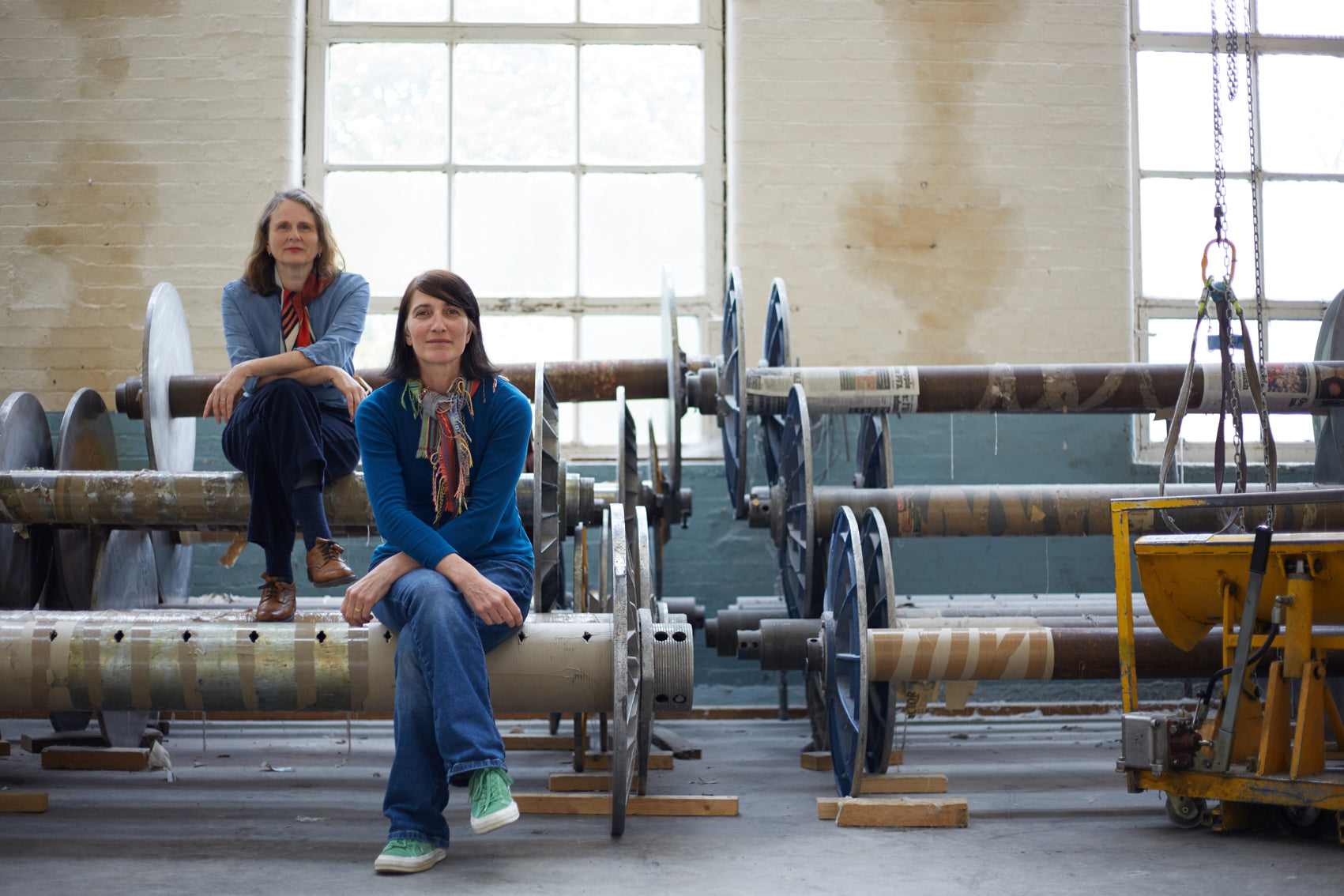 The inspiration behind Wallace Sewell's throws is mostly taken from paintings with color palettes covering a range of stories. The Founders, Harriet Wallace-Jones and Emma Sewell, also tout Bauhaus weavers such as Anni Albers and the Japanese textile design studio, Nuno, as inspiration. We're happy to welcome Wallace Sewell to our Home collection.
How did you each begin working with textiles?
HARRIET: Having completed a one year Foundation Course which covers all the aspects of art and design, it became apparent that I was preoccupied with tactile surfaces as well as pattern making and construction. With guidance from excellent tutors, I was steered towards applying for a course in textiles and I was lucky enough to be accepted at Central St Martins to do a three year BA. The course allowed me to explore woven, printed and knitted textiles and gradually focus on just one, which by the final year was weave. Emma was on the same course and from here, we were both really lucky to be accepted at the Royal College of Art to do a two year MA.
EMMA: Both my parents were architects and I grew up in a very creative family with older siblings that went to art school ahead of me. I had a strong interest in sewing and textiles, as well as drawing and making in general, and naturally followed in their footsteps. Like Harriet, I completed a Foundation course, but initially planned to follow this with a Fine Art degree, with the intention to study, colour and composition through abstract painting, with a vague idea that I might then complete an MA in textiles. However, this wasn't to be, and having been rejected by the Fine Art courses I applied to, I then rethought my plan and was eventually offered a place at Central St Martins, alongside Harriet. At the start of the course I thought I would specialise in printed textiles, but then I developed a stronger fascination with woven textiles, being drawn to the possibilities of how one could use woven structures to create a three dimensional surface to the cloth. I then followed this line of exploration whilst studying for my MA at the Royal College of Art.
What is the craft and design space like in the UK?
When graduating, we had great support from the Crafts Council, a wonderful organization who at the time (1990) financially supported designer makers across the disciplines of textile, furniture, ceramics, glass, jewelry etc basing their grants on merit and viable business potential. We were given money towards renting a space as well as a maintenance and equipment grant. It was a great start up programme.
How did Wallace Sewell begin?
HARRIET: On graduating in 1990, I wanted to work in a mill but jobs were scarce. Emma and I decided to share a space – two heads are better than one and we gave each other support. For two years we researched, visited trade fairs and brainstormed about every aspect of being freelance. We applied to the Crafts Council for their setting up grant and were successful. With this came the opportunity to apply to The Chelsea Crafts Fair, a prestigious selling event open to the public but with a wonderful international following. We launched into our first production run, working with a small mill in Huddersfield, to weave a collection of scarves, throws and cushions to sell at the show and were totally amazed at the feedback and success we received. Barneys New York came and placed their first trade order (they continued to place an order every year for over 20 years!) and really that was the birth of Wallace Sewell.
Can you describe the Wallace Sewell design process?
Each year, we design and produce a collection of scarves, in both 'signature' and 'diffusion' ranges. We usually pin point an artist or exhibition to use as inspiration and select paintings for reference. We look at the proportion of colours, textures and mood within each painting, which we then interpret into our designs. We sample ideas on handlooms and once we've made our design selection, the production is done at a mill in Lancashire.
What materials do you use in your pieces?
Our choice of materials depends on the products we are designing. For scarves, we use silk, linen, lambswool and cotton. For our throws and blankets, we use a lot of lambswool and recently we've developed a range of pure cotton throws, which are machine washable.
We love the colors used in your throws. What is the inspiration behind the colors you choose?
As mentioned before, our range of products take inspiration mostly from paintings. We select colour palettes across a range of stories, hopefully covering different moods to suit a variety of customers and with each style of throw offered in at least 4 colourways.
We think that your pieces should be kept out and used at home from Winter to Summer. How do you envision your pieces transitioning from season to season?
Yes, we find that our products are timeless and seasonless. Even though they're often lambswool which one associates more with winter, the colour palettes often give a sense of spring and summer. Our basket throws are more open weave and so lighter weight and these are great for all seasons.
Who are the designers that inspire each of you?
HARRIET: I think Paul Smith is a great designer and a wonderful ambassador for making textiles more high profile akin to fashion design. More historically, the Bauhaus weavers such as Anni Albers and Guntha Stolzl whose pioneering approach to textiles and industry have been an inspiration for so many textile designers, both male and female, reinforcing the notion that all aspects of art and design are equal, removing the stigma surrounding the myth that fine art is superior.
EMMA: The Japanese textile design studio Nuno, has been an important influence on my work. I first came across them whilst studying at the RCA, and their marriage of handwoven ideas with industrial manufacturing techniques, was an inspiration to follow the line of investigation I had started during my studies. They create highly individual cloth, pushing the boundaries of what can be created industrially. I also admire the work of Hella Jongerius who explores so many of the same aspects of textile design that fascinate us; from scale and composition to colour.