The 8 Ball: Dina Nur Satti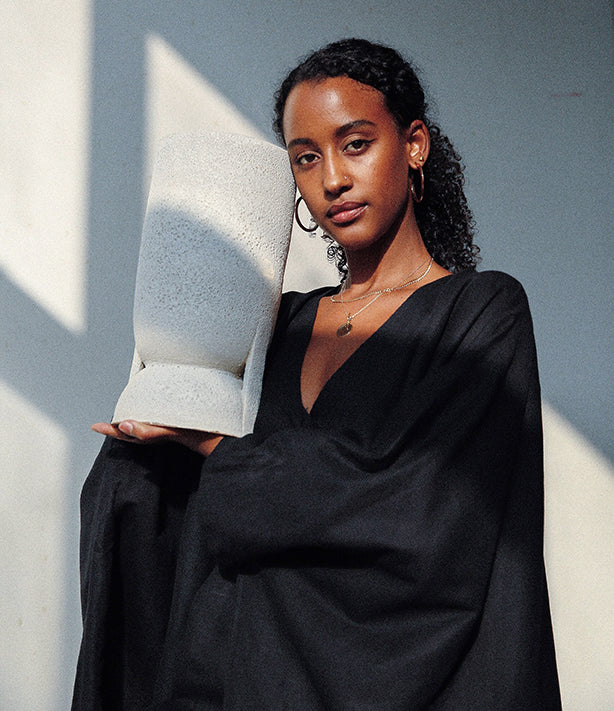 Dina Satti is interested in how art can be a conduit for communal healing and transcendence. Her own art, consisting of ceramic work, is deeply inspired by her upbringing- her cultures and heritage. Dina is originally from Sudan and Somalia, raised in France and Kenya, and now Brooklyn-based. Her ceramic work, from the Zir Vessel to the Baobab Bowl, are based in history and symbols drawing inspiration from plants and the traditional shapes from Africa. Join us in welcoming Nur Ceramics to Covet + Lou.
We are so excited to welcome Nur Ceramics to Covet + Lou. Can you tell us about the ceramics that make up your collection for those who are seeing your work for the first time?
My ceramic work is deeply inspired by the cultures I come from. My mother is Somali and my dad is Sudanese and the ceramics of those cultures continuously inspire my designs. My ceramic work is as much a pathway for me to learn more about my heritage as it is an homage to the cultures I come from. I see my journey with ceramics as a form of healing for me. There were so many layers of colonization in Sudan and Somalia and so much language, rituals, and cosmologies that were lost.
While I was studying the politics, history, and culture of Africa and the Middle East in college, I took a course in African Art History that had a very deep impact on me. I learned that artifacts that we today considered traditional African art were actually functional pieces that were an integral part of these societies' operations. There were of course certain ceremonial or sacred items that were reserved for particular rites or times of the year, but even then, they too served a function. We can learn so much about the socio-political structures and traditions of pre-colonial Africa through the artifacts they left behind. After that realization, I started to see the ceramics of my childhood as remnants of my indigenous cultural heritage that had survived cultural colonization.
We know that your line has evolved from a very personal journey into the ceramics, culture, and rituals of the Sahara. What rituals have you kept in your own day-to-day that are linked back to the desert and your cultural upbringing?
Incense was something that my mother would burn almost every day. We have a very deep tradition of burning incense resin in East Africa, with different types of incense for different purposes, and many women make their own incense blends at home. I start my days at the studio by burning some incense- I collect high-quality incense and burn something depending on the mood I'm in or the intention of the day. For instance, I find that frankincense has a very grounding feeling, while copal is more uplifting.
You are now Brooklyn-based, but you were raised in both France and Kenya. Has the movement from these different environments affected your work over time?
African cultures and traditions were part of our family dinner conversations- my mother has always been fascinated by the movements of indigenous people across Africa and would take me with her to African home decor and antique stores, even though I complained and didn't appreciate it when I was very young!
So much of the modern design that you see in Kenya and other parts of Africa tell the story of interactions those cultures had with other peoples through trade or oftentimes colonization. In Kenya, there is the ghost of colonialism that is ever-present in the colonial style of decor that is still prevalent in certain restaurants, lodges, and hotels. There is also traditional design on the coast for instance that has Arab influences because of trade via the Indian Ocean. Having the exposure to both Europe and Africa in my upbringing informed me of the complex relationship between the two continents and a better understanding of how their historical connection is still very much present to this day.
What do you like to do in Brooklyn when you're not working? Any favorite spots?
I love spending time in Prospect Park whenever I can, I find it more inspiring than Central Park to be honest! When COVID is not putting a damper on social plans, Brooklyn has such a thriving underground art and music scene so I spend a lot of my time attending and supporting friends' events and dancing with friends late into the night.
I love that you mention an interest in learning how ritual objects and spatial design can elevate experiences. This seems so relative now as Fall & Winter approach and we instinctively begin to spend more time indoors and look inward. Do you transition your space or use ritual objects to mark this change?
I really enjoy a good teapot and cups to transition into the Fall and Winter. Although I don't make tableware, I do make little tea cups for my studio and for family and friends. So I usually make a bunch of these to give away and to serve visitors to the studio.
How do you turn on and turn off when it comes to beginning and ending your work day?
I'll start my day by burning some incense and end my day with some CBD to unwind!
What was the first ceramic you made for your line and what did it stem from? A practical need, a feeling, an aesthetic?
Most of my new designs are created when I'm in an exploratory flow state. I spend a lot of my time curiously researching history and symbols in cultures that inspire me so when I'm creating I have all this information and ideas floating in my head and they influence my design process. This is why you'll find a lot of my pieces draw inspiration from plants and traditional shapes from Africa.
What are you looking forward to?
I just moved into a new studio and I'm looking forward to evolving my work in 2021- I can feel that it's going to be a year of much growth! And or course looking forward to having some normalcy after the insanity that 2020 has been.