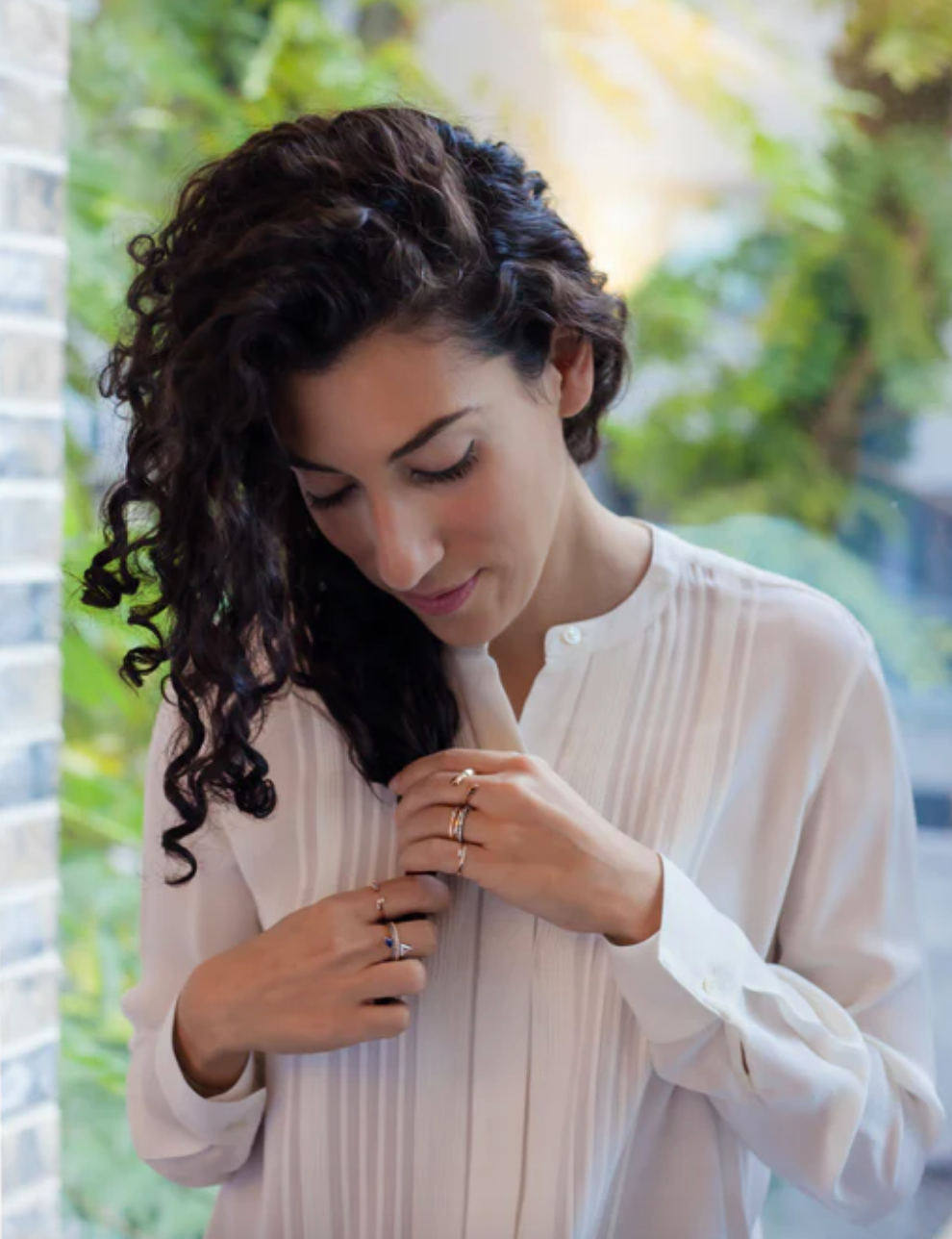 With a refined yet playful touch, Selin Kent's fine jewelry offers timeless staples designed for everyday wear and meant to be cherished for generations. 
Crafted in New York by skilled artisans, each piece is made with responsibly sourced stones and recycled metals, demonstrating a commitment to both exceptional craftsmanship and environmental sustainability. Inspired by influential women, each piece is named after real, fictional, or mythological heroines, paying tribute to the resilience and power of the female spirit.
We've seen your namesake line, Selin Kent, described as everyday fine jewelry staples. What are your everyday staples (jewelry included)?
I believe in investing in a few really solid pieces that speak to you and wearing them often. Jewelry should be worn and should see the light of day, not gather dust in a box! I like to combine pieces from my line with with sentimental ones passed down from my mother. For example I wear a mix of bracelet chains from my line with older ones that are family heirlooms that I think work well together. I almost always wear one of my more delicate pierced diamond necklaces and layer it with chunkier chains. Despite having a lot of breadth to the line with lots of rings to choose from, I rotate and wear a few rings very often such as my Coil Ring, which is a gold cigar band that is so comfortable that you forget that you're wearing it. Staples should be comfortable and should be an extension of you, otherwise they will not be worn. Outside of the realm of jewelry, I have a similar approach to bags and shoes – relying on a few great quality staples such as a navy and black leather bag from Wendy Nichol that I helped customize the colors for. I prefer finding and supporting more niche designers instead of the recognizable names.
A source of recent inspiration someone may find surprising?
My latest collection is inspired by Turkish kilim motifs. I haven't really drawn from my Turkish heritage until now in any obvious way, but the geometric shapes actually lend themselves very well to my aesthetic. Both the visual language and symbolism there is so strong and I had this idea for quite some time but didn't feel ready to tackle it until this year. While the entire collection won't officially launch until November, Covet + Lou will carry one of the pinky rings from the collection before the actual launch.
A source of inspiration that is constant?
Art Deco.
Over the years, has a certain style come to represent or act as a symbol for the line in general? Thinking of someone recognizing one of your pieces on the street and thinking, "that's Selin Kent."
There are certain recognizable visual threads in my work including the interplay of lines and linear forms, contrasting shapes and textures, creating subtle asymmetry by offsetting stones.
Your fine jewelry seems like a balance: understated yet striking, timeless yet current, refined yet playful. How do you find this balance in your design process?
Thank you for noticing! Striking this balance within collections and pieces is not something I consciously think about achieving. It happens rather naturally and is reflective of an unconscious process. Oftentimes a piece goes through several iterations before I feel like it's ready to be launched. I'll personally wear pieces to get a feel for them and will make adjustments that I see fit. For example, if I feel like it's too severe or masculine, I'll work on softening the edges and a more balanced piece will emerge. It's quite an intuitive approach.
What is bringing you joy lately?
Creating space to slow down and tune in.