In Conversation with Maria McManus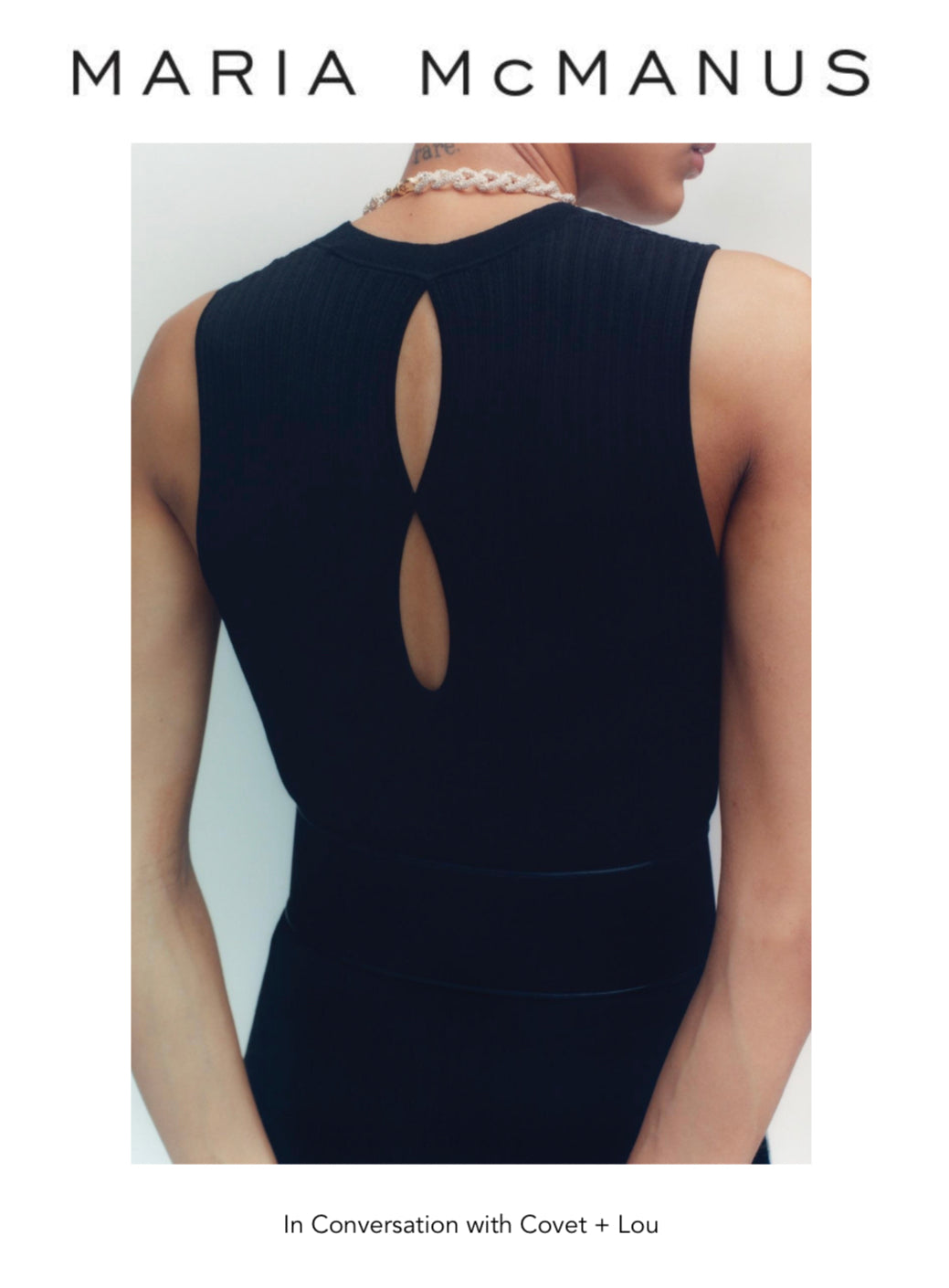 "Although I never wanted to own a fashion company, especially one that bore my name, eventually I decided that I needed to become part of the solution rather than part of the problem." Join us in conversation with Maria McManus.
Maria, how are you today? Set the scene for us on how a typical day is looking for you lately.
Now that my daughters are off school my routine is a little more relaxed but usually:

6am wake up and read up on any news pertaining to the world of sustainability. Check emails.
7am get my two daughters out of bed - never an easy task.
8am drop them off at school and then either do The Class or Pilates 2-3 mornings per week.
9am - 6pm team meetings to discuss design, production, marketing, sales and lots of fittings. I am our fit model as I like to see personally how things fit on the body and also because as a start up it's less expensive than hiring a fit model ; )
7pm family dinner - not that they appreciate it right now but I do like to have breakfast and dinner with my girls every day. However, I am also very social and like to meet up with friends regularly too.
Your line is a fairly recent addition at C+L. When I think of Maria McManus I think luxury and anti-fast fashion. I see a line (and people behind it) that actually really care about what they are making. There is real thoughtfulness behind each piece in terms of quality. Maria McManus is clothing made with the future in mind. What are some of the requirements you have when putting together a new collection?
You are too kind — I do feel very lucky to be able to create this brand with a team that has our sustainable mission at the forefront of their minds.

When creating a sustainable collection there is much to consider, and honestly we are only at the very beginning of the journey. Right now we begin with certifying all of the materials we use as either recycled, organic, or sustainably farmed in some manner. We also try to ensure that all materials we use are biodegradable, down to our buttons and packaging.

However we still have a long way to go. In the next 1-2 years we would like to begin certifying all of our factories to ensure everyone is paid a fair living wage (this can be difficult to prove although we try our best). We also want to put more emphasis on sourcing materials from regenerative farming methods and eventually we would like all of our materials to be fully circular - meaning the ability to recycle every component of the garment. A lot of the above will depend on how aggressively people, policy and technology work hand in hand to address climate change.
At this point we've all become pretty familiar re: the term "greenwashing" and what it encompasses. I would love to empower and give knowledge to consumers on what they should be looking for instead when making a decision to buy a new clothing item. Maybe you can tell us about the Global Recycled Standard and GOTS (Global Organic Textile Standard). I think consumers may be less familiar with these processes.
Honestly I rather focus on the good that people can choose to do rather than the bad we know is happening. For customers I would truly ask them to check everything they purchase for polyester and avoid it - I find this most difficult when purchasing children's clothing. Polyester is a derivative of the fossil fuel industry, takes most likely 1000's of years to biodegrade, if ever, and creates microplastics and forever chemicals in our water systems that will do goodness knows what harm to our health and reproductive systems.
Also, if you have the financial resources to, I would strongly advise against purchasing fast fashion, especially Shein. I will say the two largest European fast fashion companies are trying to make changes but generally if you pay $9.99 for a pair of leggings how much do you think the human making those leggings were paid.
When was Maria McManus born? Did you always know that you wanted to have your own line?
I had been working in the fashion industry for many years and was becoming acutely aware of the negative impact garment production was having on our environment. Although I never wanted to own a fashion company, especially one that bore my name, eventually I decided that I needed to become part of the solution rather than part of the problem.
We started the collection in February 2020 right as covid began which as you can imagine was an epic disaster. However, somehow we did prevail and have an incredible, loyal customer base like Covet + Lou. I have been so delighted, and surprised actually, at people's desire to dress more responsibly and to support small, women owned businesses. We remain so grateful to the community that have helped us get this far in a relatively short period of time.
If you could recommend two or three key pieces we should have in our wardrobes, what would they be?
For me, our oversized organic cotton shirt in white, our wide leg trousers in either responsible tropical wool or organic cotton and a sweater dress like the recycled cashmere Tear Drop Dress or the FSC Godet dress as they are so elegant and pack so easily with no wrinkles. These pieces are so diverse and will always be in style — purchasing pieces you'll wear a lot and for a long time is the easiest way to be responsible with your wardrobe.
While clothing is our bread + butter at Covet + Lou, we also span across Home and Beauty. Do you have any favorites in any of these categories that fit your ethos?
So many!! I love recommending other brands I believe are also working hard to be more responsible:

Oracle olive oil and body oil.
Soapply soap.
Lesse lip balm, face oil and sunscreen.
Blueland for home cleaning supplies.
Anything and everything from Package Free.

And I try to buy mostly vintage for my home or from small, local designers.
Your choice: what is the last book or last meal you read/had and loved?
'Less is More: How Degrowth Will Save the World - Jason Hickel' Enjoyed this book so thoroughly.
How do you incorporate the ethos of Maria McManus into other parts of your life in NYC?
We try:
Composting - we have an at home Vitamix composter.
Eating locally and organically - Farm to People.
Supporting small businesses.
Avoiding plastic where possible - reusable cups, don't get a plastic coffee cup lid.
Using Blueland and Package Free for all home cleaning.
Purchase investment pieces that you will cherish and love for a long time.