"Galaxie 500: Temperature's Rising" with Naomi Yang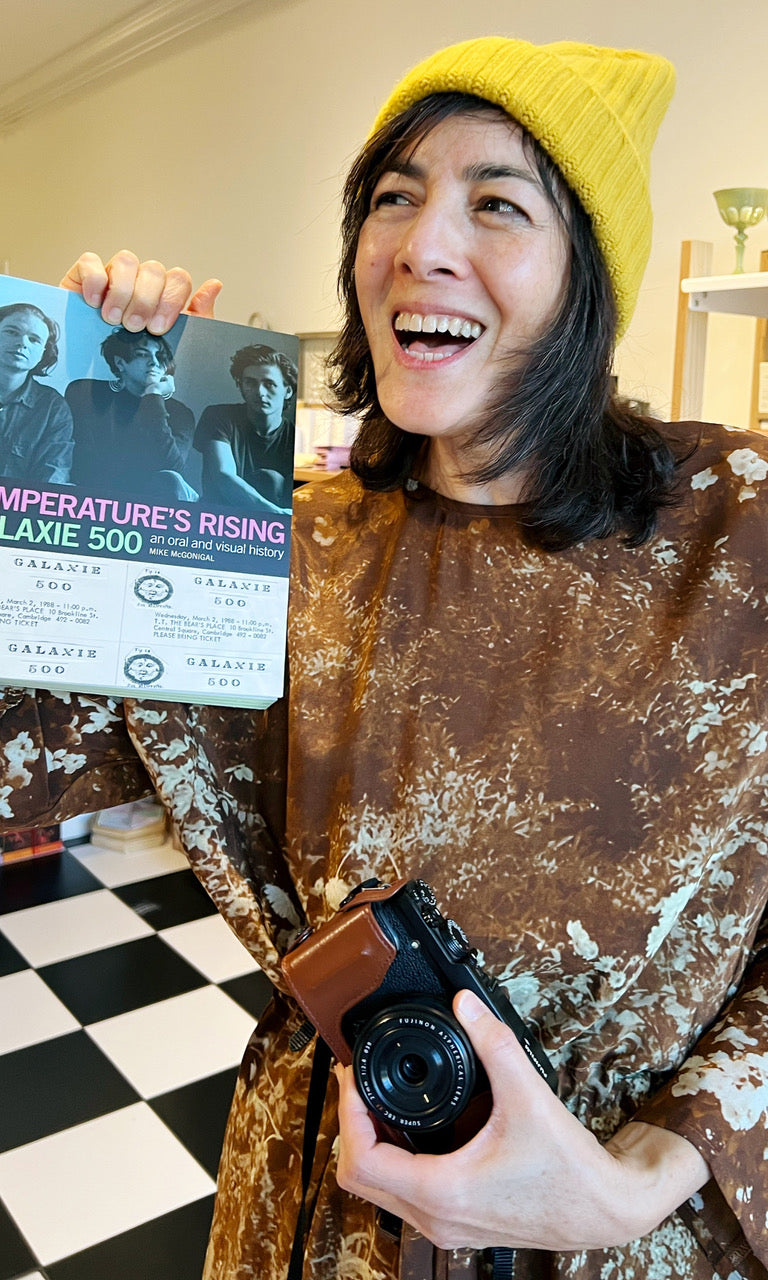 We know Naomi Yang from her time shopping with us at Stel's and from her time spent as the bass player & occasional vocalist in Boston-based indie band, Galaxie 500. After the first edition of "Galaxie 500: Temperature's Rising" sold out, Naomi and crew decided to bring it back in print and have it available to all again. We're happy to have the book in our shop. Read on for more with Naomi. 
Hi Naomi. Can you tell us about "Galaxie 500: Temperature's Rising"? We're happy to have picked it up at Covet + Lou.
Well first I want to say how excited I am that Covet + Lou is brick and mortar; I love Tina's taste and her style! I have very fond memories of Stel's, Tina's first store, but Covet + Lou is clearly going to be my new Boston destination for beautiful clothes and gifts!
I am delighted that "Galaxie 500: Temperature's Rising" is back in print. It is the story of Galaxie 500 (1987-1991) told as an oral history. In the book there are a kaleidoscope of voices — band members, record company people, journalists and friends. It's the classic band story: starting as good friends, the early struggles, the success, and then (spoiler alert!) — the band breakup…
I was bass player and occasional vocalist in Galaxie 500, but I was also the band graphic designer, and so I had an extensive archive of all the ephemera and photos connected with Galaxie 500. It was nice to be able to put the whole history in one place. The first edition of the book sold out and was selling for so much on Ebay, so we thought we would bring it back in print and make it available again to everyone.
Talk to us about the music scene in Boston/Cambridge during the Galaxie 500 days. What was it like?
We were all originally from New York City — the three of us in the band actually went to high school together in New York together and then all made our way up to Boston for college. So we kind of always felt we had one foot in the Boston music scene, and one foot in the New York scene. But it was all way pre-internet — so wherever you were you had to leave your house, you had to go out to a club if you wanted to see or hear the band you had only heard about. So we were all going out all the time, and playing all time. Heavy metal and hard rock was the popular music at the time — so what we and all the other indie bands were doing was kind of just our own world. It connected to scenes elsewhere, there was an underground network.
What's your creative outlet these days? 
I am still playing music — as 1/2 of Damon & Naomi. We had a new album out last year "A Sky Record" — it is sort of our pandemic album — we recorded it partially in Japan, right before lockdown, and then we completed it during the first year of the pandemic. So there is an introspective feel to it, but I also think there is also a great sense of gratitude and peace in the album.
I am also a filmmaker — I have been making music videos for other musicians during the last 10 years and I am about to release a personal documentary that I have been working on for the last 4 years — about my taking up boxing in East Boston… more on that soon!
What books are on your top shelf from your publishing company, Exact Change? (If you can pick favorites…)
Damon and I also started a book publishing company, 
Exact Change
, back in the 90's when we were in Galaxie 500. All our friends were starting small record labels and releasing things they loved, and there were all these great books that were out of print. So we decided to start a publishing company. I redesigned and repackaged the reprints, Damon did all the editing. We still do it, but we don't release as many titles as we used to. One of my favorite titles is "
Mount Analogue
"by Rene Daumal. It is a short, rather mystical novel that was first published in France in 1952 — about an expedition to a mountain which may or may not exist…
Glad to hear you're still based in the area. Do you mind sharing some favorite spots with us?
I love shopping for groceries and prepared foods at the Armenian/Middle Eastern Sevan Bakery in Watertown — olives, cheese, dried beans, their incredible lamajun (Armenian pizzas) — everything so fresh and a family run business!
I shop for records at Stereo Jacks, which has just moved to a new location in Somerville. It is under new ownership but I think is has retained the same great old fashioned record store vibe — where you can discover new and old music and the staff DEFINITELY has an opinion on every record in the store!
I love the MIT press bookstore for art books, photo books, and a beautifully curated fiction section.