At Home: Susie Lee, Creator and Founder of Echo Vie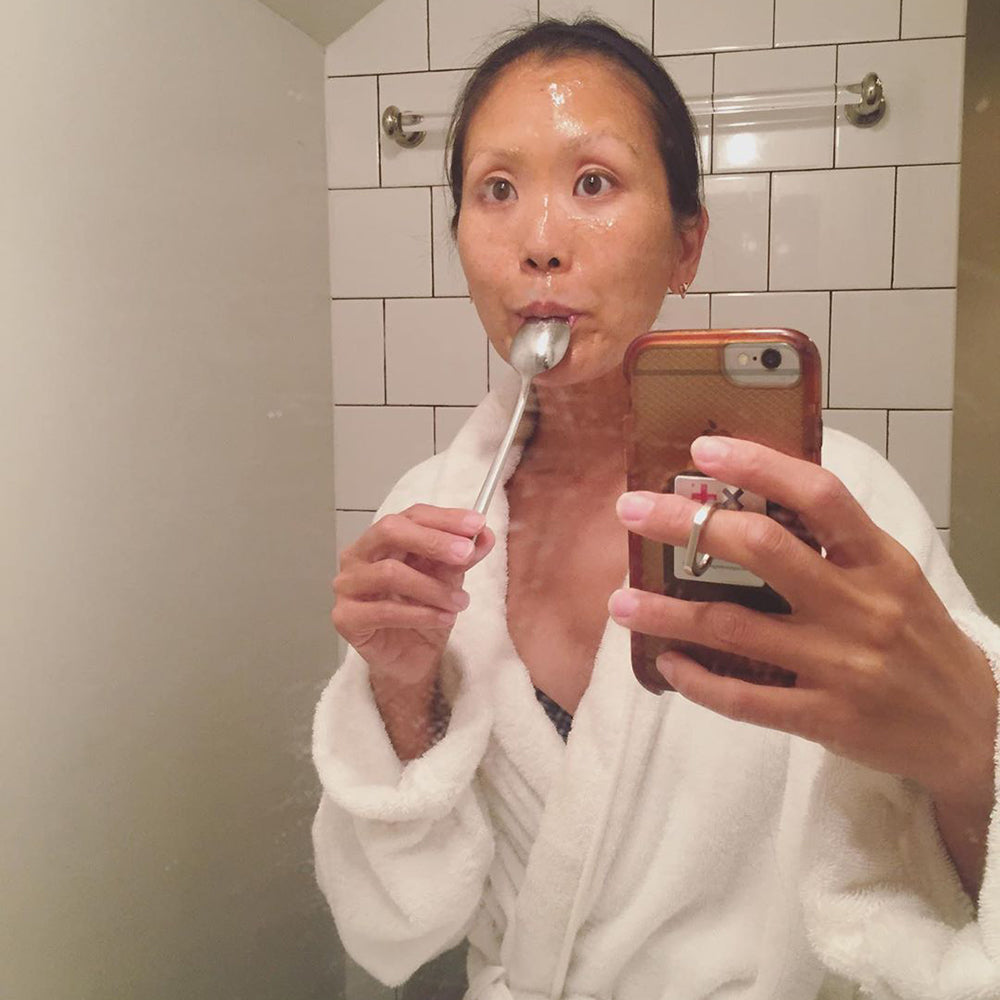 At Home is about self-care. We're asking some of our favorite people what's keeping them well.
Where is home for you right now?
Chicago, Illinois
What are you doing to keep yourself calm?
Keeping calm by creating beautiful rituals: Meditating twice a day (sometimes outside in grass, but usually in my bedroom with sage or invents); taking my dog for a walk and finding a large tree to sit next to and ground myself/recharge with the Earth's energy; snuggling with my son and watching a movie; taking CBD baths with lit candles and a book, CBD tincture before bed.
What are you watching / reading / listening to?
Watching: I don't normally watch much tv, but I've been catching up this month! Just finished watching Ozark, just watched a documentary on Nikola Tesla.
Reading: Patti Smith's book Year of the Monkey.
Listening: Listening to podcasts: Oprah Supersoul, How I Built This. Music: Gillian Welch, Lauryn Hill, Cat Power, Courtney Barnett... I guess a lot of women lately...needing some gentleness and introspection.
What are some self-care tips you can recommend to others right now?
I think we all feel so helpless. What we can focus on for self care is giving our bodies the tools needed to stay strong and fight off any bugs. We can choose good, fresh foods that are nourishing and full of vitamins and minerals. Get as much Vitamin C as you can via foods and supplements. Drink plenty of water. Give yourself a break from coffee and replace them with herbal teas (I've been doing a lot of matcha and Dandelion). Get a little exercise daily...outside preferable to get some Vitamin D. And get rest; sleep 8-10 hours, indulge yourself in an afternoon nap!
Beauty/skincare products you have been using at home?
I've been cleaning out drawers and my medicine cabinet and finding some good stuff. I normally oil cleanse and use ECHO VIE products: Magic Detox Mist, followed by face oil #1 or #2, and a little lip balm. But I've been adding some sugar to my oil to exfoliate my face, using honey as a face mask (lovely, but very messy)...I've also been playing with a few new products coming out soon. The SKIN SAVIOR balm is an all purpose fixer. I've been washing my hands so much that they started cracking. It's been saving my hands and feet! I also have been using the extra time to use my gua sha tool and face roller daily. I love it so much! They help to relax the muscles you use all the time in all the facial expressions we habitually make. The idea is more blood flow, and less lines.
What's on your Covet + Lou wishlist?
I love the Half Sleeve Drama Maxi in Aqua Tie Dye by Raquel Allegra, the Signature Shirt Maxi in Olive from 7115 By Szeki, and the Bird and Moon Cross Drop Earrings by Grainne Morton (and so much more, but I don't want to keep going)