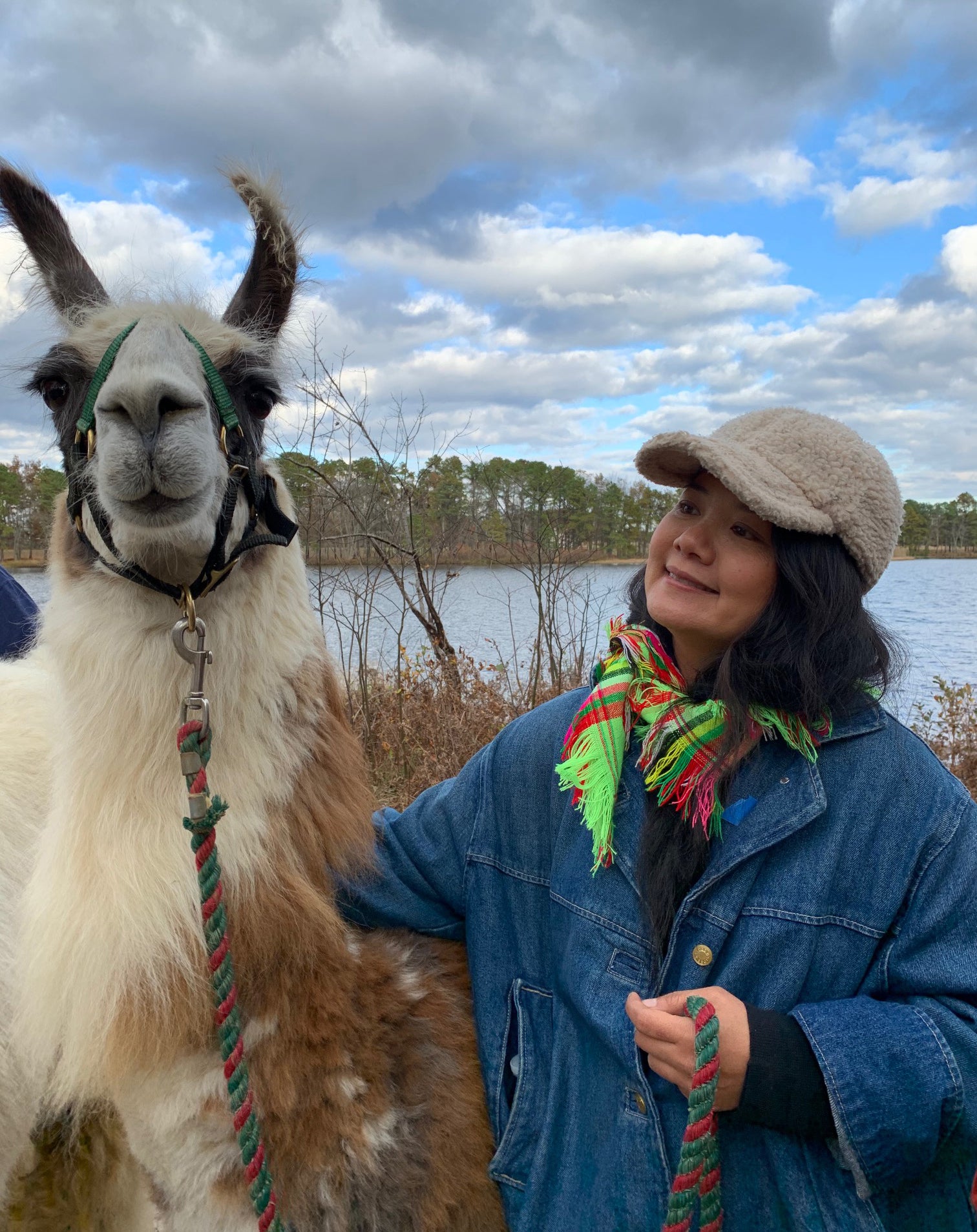 "Sometimes I make the mini pots with my eyes closed so that they feel lovely to hold." Brooklyn based ceramicist, Minh Singer, tells us how each ceramic she makes is so special.
We love that you call your ceramics mystical souvenirs. (We agree there is something quite mystical about them). Can you speak to how you approach each piece as you create? What makes each piece so magical?
Thank you for appreciating them! I make every piece with the intention to slow people down especially in this era of constant digital stimulation. There may be a colorful drip or a gold detail that draws people in to look closer. Sometimes I make the mini pots with my eyes closed so that they feel lovely to hold. Whenever I experience a bit of magic in my life like walking Clemente, the llama through a forest… to a lake on a beautiful day… with perfect fluffy clouds, I try to imbue my ceramics with those mysterious and blissful feelings.
How do you use your ceramics at home?
I notice when there's a proper place to display and hold my jewelry, it is less likely that I will misplace it. There are several Iceland Dishes of various sizes and colors scattered across my nightstand like a constellation with my favorite trinkets sitting pretty in them.
Tell us about the materials and colors that you use.
Mixing and layering colors, is one of my favorite parts of the process. I come from a painting background so I like to achieve depth and luminosity in the glazes. Then I sometimes add 22 karat gold or an iridescent mother-of-pearl luster layered on top. I use all types of clay to achieve different effects, but porcelain seems to be one of my favorites. She is high-maintenance to work with, but so pretty.
Please give us a sneak peek into your day. What do you do when you wake up? When you go to bed?
I have never been a morning person. What I do to remedy that is to do some simple and gentle yoga poses in bed. This helps me warm up my body and brain to want to get up and live while still being comfortable in bed. I have a whole Bed Yoga sequence that's quite effective for the non-morning person. I also like to start the day with some stream of conscious journaling. That's where I dump out my complaints, random thoughts, and desires. It's my mini therapy session and meditation. I love the act of handwriting in cursive, too.
At night, I like to wind down by taking a shower, washing away all the energy, clay dust, and city grime I have accumulated throughout the day. I love using wonderfully scented natural moisturizers, soaps and products for my body and face before very happily slipping into bed. I have the best bed set up ever now with silk pillowcases, a duvet that feels like a cloud, and pink sheets that are so smooth to the touch. My bed is heaven on earth. I always take a moment to appreciate how luxurious my resting situation is before I fall asleep, usually very quickly.
Your favorite part about being based in Brooklyn? Any recommendations?
Brooklyn is pretty easy to ride my bicycle around, which brings me tremendous joy and is the best mode of transportation. Everything is here. My apartment, my studio and all the good restaurants and cafes are here. It's like being in the city, but definitely more chill and less crowded.
For restaurants, I like Di An Di for Vietnamese food in Greenpoint. My cousin and his wife run it. It's delicious and beautiful inside with lots of plants. They just opened for brunch. It's amazing. After eating there, I like to walk down the block to Transmitter's Park and look across the river at the city.
Maha Rose in Greenpoint is also awesome. It's a healing center. Everybody who lives in the city needs to recharge. It's great to do it with a community and I especially love to take Breathwork workshops there. If you haven't tried it, I urge you to try it! I have seen marvelous visions, messages and even glaze inspiration during these workshops.
How long does it take you to complete a ceramic?
I do my work in batches and I definitely am not focusing on the time. So you aren't going to get a clear answer from me! For some reason, time goes faster while making ceramics than it does for any other part of my life. My ceramics, especially the ones with gold, go through three kiln firings. Therefore, one batch can take up to one whole month to complete.
We know that you have worked in fashion and art education! Any favorite designers or artists you are crushing on lately?
For fashion, I love Anntian and Christian Wijnants. Their use of color, fabric and prints are delightful.
For art, I am definitely crushing on Nick Cave. He seems to be a beautiful human being with kind eyes. His eyes see the world in such an optimistic way. David Hockney is also one of my all-time favorites.
The best part about being a ceramics artist?
First of all, clay as a material is so therapeutic to work with. Then there is a magic that happens when you see the material transform after it gets fired. I love how ceramics is art yet it can be functional and practical, too.